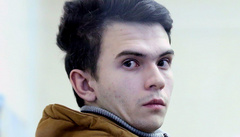 The October district court of St. Petersburg has arrested on November 16 21-summer Philip Budeykin famous as Philip Lis–the administrator of one of «groups of death» «VKontakte».
Writes about it «Jellyfish».
He passes on the case of bringing to suicide; 15 teenagers are registered as victims. The investigation believes that children were incited to a suicide by administrators of eight communities «VKontakte» , the administrator of one of which was Budeykin, so far the only suspect on business.
On May 16, 2016 the journalist Galina Mursaliyeva has told in «To the new newspaper» about the closed groups «VKontakte» , where participants are pushed to suicides. Mursaliyeva claimed that unnamed «adults» , «secret"puppeteers"» «systemically, systematically and accurately» brought teenagers to a suicide, using «manipulation with meanings and the thought-up symbols». The author has counted 130 suicide, committed by children from November, 2015 to April, 2016, at the same time on December 25, 2015 four children have committed suicide at once.
According to her, almost all children consisted in communities «VKontakte» , where with them were carried out «interactive games» , during which teenagers had to perform a number of tasks: to write the essay about suicide, to cut hands, to draw the thematic drawing. Commission of a suicide was the last task of a game. Refused to perform tasks excluded from groups. Philip Lis was mentioned in the text–he allegedly was one of administrators «groups of death». The publication has caused extensive discussion of a subject of teenage suicides.
On May 17 about «groups of death» their creators have told. In the text «Lenta.ru» it was told how administrators «groups of death» tried to decline teenagers to a suicide. Followed from the text that the initiative of creation of groups proceeded not from «adults"puppeteers"» , and from young people.In particular, in material it was told how 20-summer Philip Lis created groups with «psychodelic content» , invited in them teenagers, published materials on a suicide, and also spread fake records of the suicide and distributed tasks to participants of groups. He declared «carrying outflashmob» On December 8, during which participants had to make a suicide, having left the last message on the page on social network. As appears from the correspondence screenshots the Fox published in material, the 20-summer young man conducted groups and distributed tasks for the sake of an entertainment. In the text it is told also about other administrators «groups of death» , who behaved similarly.
Philip Lis at first confirmed that he is related to suicides of teenagers, and then has begun to deny it. He estimated quantity of the suicides made by participants «groups of death» (where he was an administrator) as «at most 10».
«The space in the Universe is hammered! we clean the world from bio garbage!» - he explained the motivation (spelling author's).
Already on May 23 Philip Lis has refused the words.
«I created group with one purpose–to advertize the group for the sake of subscribers, likes, about it» he said.
On November 11, 2016 Philip Lis has changed a position again. He has given an interview to the edition «St. Petersburg to a.r» , in which has told that pushed children to suicide. Admitted to Lys that after the publication in «Nova» began to deny everything as «was frightened that will be closed».
«You remember story with the Khabarovsk fleecers? How many people then wrote what such needs to be burned? Well and so, speaking in images: I burned» , - Budeykina quotes the edition.
He claims that he has directly influenced the decision on suicide of 17 teenagers. He has also noted that he conducts «rather new project"D28"» , which 28 participants already «are ready to leave». Now in group #d28 682 persons consist, materials of group are executed in similar with «groups of death» to stylistics. The last message from administration is dated on November 13.
On November 15 Philip Lis was detained in Moscow area, he is connected as the suspect to criminal case about bringing to suicide. According to investigators, 15 minors who have committed suicide in different regions of Russia have been during the investigation established.
«According to the conclusions of the psychologist - linguistic examination, correspondence of administrators of group contains the motivation to commission of a suicide promoting deformation of an instinct of self-preservation and devaluation of death» , - it is said in the message of the IC RF.
On November 16 the October district court of St. Petersburg has arrested Budeykin for two months. Against the young man have given evidences of 10 people.
«Searches at administrators and participants are carried out «groups of death» , having pseudonyms Philip Mora, Miron Stekh, the Keeper Istiny and others. Young people are interrogated as witnesses, all of them have given the developed and consecutive evidences, having reported, in particular, that Budeykin called and declined minors through correspondence in groups on social network «VKontakte» to commission of suicides» ,—have reported in SK.