During large-scale special operation of Security service of Ukraine and prosecutor's office of the city of Kharkov on establishing order in law enforcement agencies it is exposed and stopped activity of interregional criminal group in the narcobusiness sphere. GU MVDU'S acting employees in the Kharkov area from among persons of the senior officers were organizers of criminal group.
In particular, the deputy chief of department of fight against MVDU drug trafficking in the Kharkov area who directly received drugs was the leader of criminal group. Together with it the chief of office of criminal militia for minor MVDU of Kharkov which organized sale of drugs among youth in the Kharkov area is detained.
It is established that for 2009 the specified persons with involvement of inhabitants of the neighboring regions organized the settled channels of supply to Kharkov of big parties of poppy straws: since the beginning of this year the Security service documented 10 episodes of supply by narcotic raw materials. In the subsequent of it opium which came true through under control drug-addicted persons was produced.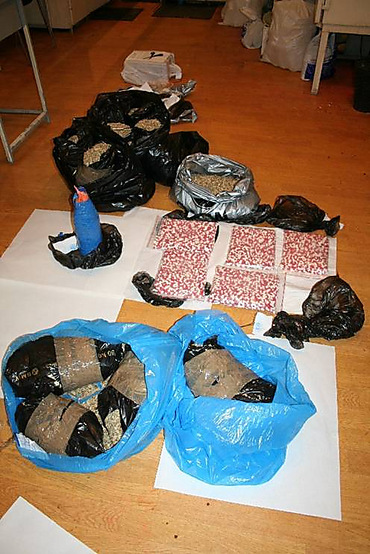 On October 8 this year within the criminal case brought on materials of SBU by prosecutor's office of Kharkov on signs ч.2 by Art. 307 of the Criminal code of Ukraine (illegal production, production, acquisition, storage, transportation, transfer or sale of drugs, psychotropic substances or their analogs), the staff of SBU with involvement of fighters of the Center of special operations detained participants of criminal group "on hot" at implementation of delivery of narcotic freight on duty. During detention over 20 kilograms of poppy straws, 12 thousand tablets of Tramadol drug, some hundred tablets "Ecstasy", other narcotic and psychotropic drugs are withdrawn from drug dealers.
On the same day other participants of criminal group - suppliers of drugs from the areas next to Kharkov and persons who were engaged in direct production of opium from poppy straws for the purpose of its subsequent sale are detained. During a search from them it is also withdrawn drugs and firearms, reports a press - the SB center of Ukraine.
The investigation is carried. Six participants of criminal group are held in custody, concerning two more malefactors the measure of restraint - recognizance not to leave is chosen.