"Crime. Is NOT PRESENT" wrote that yesterday to the city of Nikolaev with working visit there had to arrive the President of Ukraine V. Yushchenko, but at the last minute this visit was cancelled. Instead of the Guarantor Konstitution, to Nikolaev there arrived the first deputy head of presidential office Alexander Shlapak.
As always a press - service of the Nikolaev regional public administration and personally the adviser to the governor of the Nikolaev area Yu. Silent I considered that this event won't interest readers of separate Nikolaev mass media and flatly refused to admit correspondents of these mass media even on a gun shot to the distinguished Kiev guest.
We will remind that we wrote about "feats" of the faithful servant of the governor, which as the civil servant, has no right to afford the such.
By and large, the behavior Silent, during visit of the first deputy chairman of the Secretariat of the President of Ukraine to Nikolaev, speaks very simply. Business all that the servant wasn't able to afford that, journalists any there, impaired a little image of his mister, asking inconvenient questions. At once it should be noted that sources in the Secretariat of the President of Ukraine, note what exactly Alexander Shlapak is "roof" of the present governor in presidential office and exactly thanks to his efforts Alexey Garkusha still holds the post.
It is connected with being expected visit of the President and one more very interesting fact about which it is impossible to keep silent.
On Friday, October 16 as reported sources in the Secretariat of the President of Ukraine, the governor of the Nikolaev area underwent sharp criticism from the Head of presidential office Vera Ulyanchenko. Even the question of A. Garkusha's removal from a post was raised. According to the same sources, the President had to arrive to Nikolaev to present the new governor, but, as always, the policy and patrons of the governor in the Secretariat of the President interfered with process. Therefore and it isn't surprising why instead of V. Yushchenko to Nikolaev there arrived A. Shlapak.
But, seemingly, Alexey Garkusha not so blindly trusts in a vsesilnost of the "secretariat" patrons therefore, on Monday, quickly, I got sick on the hospital. About it, according to sources in Nikolaev YEAH, I reported vice-the governor D. Odoronko at meeting on preparation of visit of guests from Kiev. This meeting, on Monday, Oboronko saw off.
Possibly, the governor "fell ill" in order that in case of decree signing about dismissal, there was an opportunity to challenge the Decree of the President in court.
But here miracle! It appears, the best medicine for the governor of the Nikolaev area from all illnesses is not to see the President of Ukraine V. Yushchenko. Such conclusion can be drawn from all events, after all on Tuesday Alexey Garkusha was absolutely healthy and together with A. Shlapak smiled while on "Ocean" lowered the next barges for "Nibulon".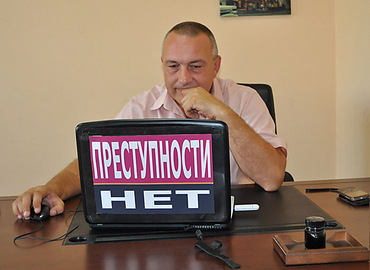 PHOTO: MUKOLA.NET