It is more difficult to pass on the Nikolaev combined heat and power plant, than to the SBU building. By the way, too to leave difficult. In a director's office of the Nikolaev combined heat and power plant of Alexander Vasilyevich Shevchenko, the young imposing man, a set of diplomas and awards - in 2005 he became the winner of the competition "Names of Year", in 2006 the treasured figurine was received also by the enterprise. On shelves - a medal for achievements in branch (from 500 enterprises by medals were noted only 50), an award for the 12th place from 207 enterprises in business - a rating according to RTPP, anniversary medals to the staff of the enterprise for honest work and in honor of 105 - the anniversaries of combined heat and power plant, the souvenir globe - a gift besides to a holiday from Dneprodzerzhinsk and Krivorozhsky combined heat and power plant …
- Existence of such number of diplomas confirms that the enterprise successful and strong. Alexander Vasilyevich, in what your secret of success?
- The success basis - solid professional collective which works already many years here, supports this enterprise who wishes to the city only prosperity. Without solid professional collective any enterprise, any director won't be successful. 580 employees work at our enterprise.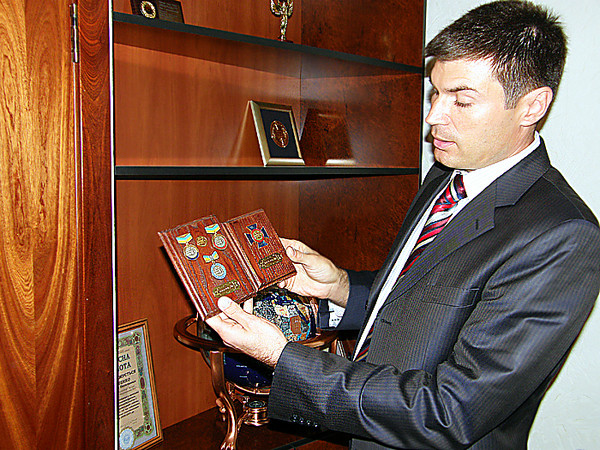 Alexander Vasilyevich показывет medals to the staff of the enterprise for honest work and in honor of 105 - the anniversaries of combined heat and power plant
- On October 15 the heating season had to begin.Whether child care or medical institutions when the heating season will begin in Nikolaev are started in connection with crude weather?
- Such is specifics of our enterprise that only all coppers at the same time are started. The main pipeline passes through all city therefore start-up of heat can happen only in a complex and at the same time at all consumers. Local boiler rooms at us don't exist. There is a uniform base where there are also steam power coppers, and turbogenerators.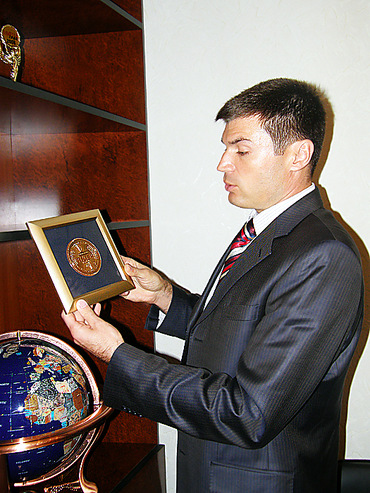 The medal "Leader of Branch" - one more pride of the enterprise
When the heating season will begin? There is a legislative base which regulates start time. The order of the mayor confirms legislative base where it is noted that it is necessary to begin a heating season at achievement of external temperature of +8 °C for three days.
We every year, without waiting for +8 °C we are started a little earlier. Till October 27 to us promise weather of +20-21 °C in the afternoon, the cold snap will begin only since Thursday (29-го October). We, without waiting for cold weather, we will start heating in the last warm days - Tuesday through Thursday.
- Whether boiler rooms, heating mains are ready to heat start, whether there are sites with incomplete repair?
- We are completely ready to a heating season. After the past termination, we began at once preparation for the following, began repair work. For this period of the turbine, coppers, we prepared heating mains in full for heat giving. Heating mains are filled with water for 100%, power turbines are reactivated and are at any time ready to start, the boiler equipment in a readiness mode. Therefore we select the remained small errors for the service equipment, we transfer the personnel to shift work, we prepare administrative documents and are ready to start.
Money which are considered in tariffs were spent for repair. This year as year was heavy and not quite I provided economically - reasonable level therefore we did repair without involvement of contract organizations. But the personnel very well fulfilled the repair period. Total amount which was spent since the beginning of year for this repair - more than five million hryvnias. It, considering our today's economic situation of the country quite decent money but in order that to support such serious and elderly equipment in a normal state, and the most important - to modernize - it is necessary to spend five times more.
Before to start housing object, we receive from it the demand for heat start. Every day to me on a table such demands lay down. But for their October 22 was only 34. That is people don't think today yet about heating.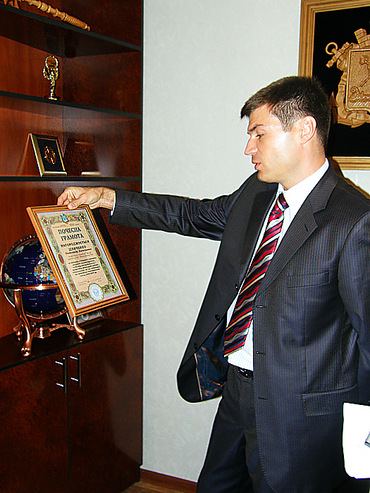 - Why today there are problems with the permissions to installation of autonomous heating in apartments? How it can be reflected in combined heat and power plant work?
- Autonomous heating is very good thing, and very civilized perspective current. If to use it technically competently. I dream that in each house hot water was all the year round. But if in one house of 15% of apartments, for example, to bring to autonomous heating, other 85% won't receive qualitative heat because there is a disbalance of hydraulic system in the house. We know that water goes on the way of the smallest resistance. That is there, where people were disconnected, then the next entrance won't receive necessary heat. If to connect a separate entrance, section, the house completely to autonomous heating, it won't do any harm and won't be reflected in hydraulics. But such heating already now has to move where there is no opportunity to provide good service - for example, in Matveevke. There was a question - or to spend millions for construction of a boiler room which will serve three houses, or to transfer these houses to autonomous heating. Certainly, the second is more favorable and more convenient. Though would be more civilized to put a roof boiler room that pipes didn't stick out of each apartment and that the neighbor didn't breathe those gases which are burned in other apartment.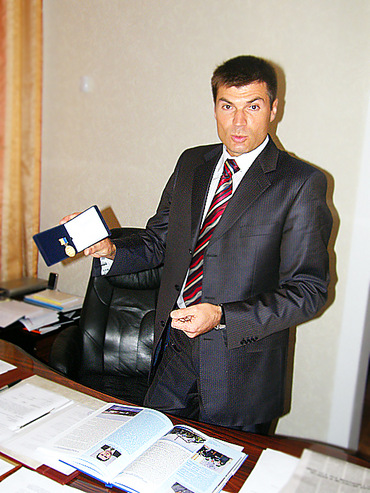 In Alexander Vasilyevich's hands - the medal "Leader of Branch-2009", on a table the almanac "Toplivno - a power complex. The present of Ukraine" where the Nikolaev combined heat and power plantis described also
- Why form of ownership of the Nikolaev combined heat and power plant - open joint stock company, instead of the state enterprise.
- We have a form of ownership of joint stock company, but 100% of actions belong to the state. Therefore it is possible to say that we the state enterprise. It is possible to take shares only when the state will offer them for sale. It is made in order that further it would be possible to sell equity stakes parts or completely to the investor. Our enterprise has opportunity to participate in competitive sale of shares. But today we for 100% belong to the state.We while are in the list of the enterprises which privatizations don't belong. The enterprises of power branch don't get to the list of privatization.
- Recently there passed information that to management of NAK "Naftogaz" transferred some combined heat and power plant, and according to some information it included the Nikolaev combined heat and power plant. But on other sources Nikolaev didn't enter. How actually?
- There were two decisions of the government. The stations which actions were in the energy company were transferred in the first solution of NAK "Neftegaz", and the second decision concerned those stations which were under Ministry of Fuel and Energy. We for 100% belong to the state therefore were in the second list, and us sent the whole property complex to trust management, without changing form of ownership. From the moment of the introduction of the resolution in action we will submit to NAK "Neftegazu", it will operate us, but form of ownership won't change. Us have no right to sell and so forth. We understand that the most important question today are calculations for gas. Therefore NAK "Neftegaz" as the owner of a resource, gas, will look why there is a debt on gas - or the enterprise isn't able to work with the consumer, or management doesn't correspond, other reasons. It is a positive step for improvement of calculations for gas, they will be able to regulate tariffs, movement of money, management and closely will approach to the solution of this problem.
The population debt for the past seasons makes for today 12,5 million UAH is the fourth part of annual charge. All enterprises paid for gas - there were population debts. Our legal department works with debtors. There are experts who conduct pretenzionno - claim work. Certainly, if there are difficulties, always it is possible to make debt restructuring. But if the debtor essentially doesn't want to do anything - we appeal to court, the executive service enters then. And as the executive service works - it is known …
- In the spring your enterprise dispatched to defaulters of the account for heating with a cartoon with the image of the soldier of Red army and Hitler - as approve received receipts deputies of city council. They were very revolted with drawing and demanded an apology. Than this history ended?
- It at session was exaggerated, it was the usual caricature which those who shouldn't, was apprehended with a smile upon the face, and by those who has to - was inflated to the unknown sizes. As far as reception was effective? We work with people in a complex.We have a work with those who pays. There is a stock "With Heat and Love". We collect information on those people who paid off, aren't debtors. We hold with them presentation meetings, we play between them prizes - from symbolical - to refrigerators and tours. We will already hold the fourth year such actions. This year too, probably, there will be any caricature. On a depuy corps all paid off. As soon as the hearing went that тепловики start collecting information on debtors - to deputies, all extinguished the debts. The same practice at us with Teplokommunenergo - it provides me the list of debtors - the staff of combined heat and power plant, е to it the list of debtors - his employees. Workers get paid in time, completely, there were no reductions therefore, please, paid off on services. Salaries and awards are paid also. If not to pay to people a salary how from them it is possible to ask work? But crisis didn't concern employees.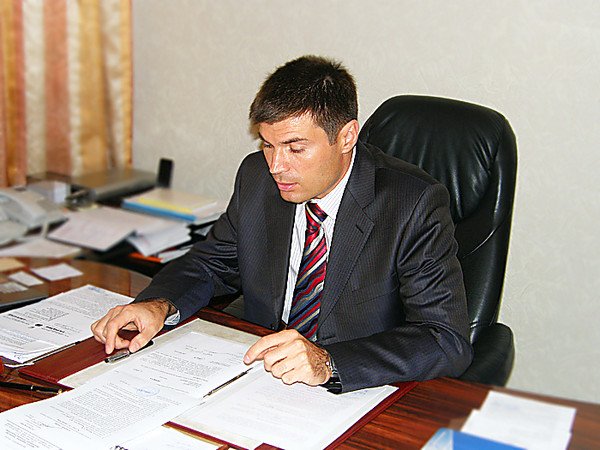 - What period of the enterprise you could call the most successful, in what its achievements?
- It, probably, last season. We paid off with all debts - repair, reconstruction, for gas, paid off with contractors. But today crisis was reflected in enterprise work. Tariffs are established with zero profitability. The enterprise which works without profit - long won't hold on. For normal work tariffs have to be at least for 10% of profitability. Then it is possible to speak about enterprise development. But in connection with crisis growth of tariffs was suspended, and growth of gas price proceeded.
- There was a fact when BNON presented to a claim on the fact that at the enterprise there were precursors (chemicals which also are used for production of drugs). Tell about it.
- There was a law according to which it was necessary to obtain the license for the right of storage of certain chemical means. Check made to us the instruction. But by that moment we already processed all documents. Simply this process took nearly three months, all licenses are now obtained.
- Whether you consider, what during local elections speculation on questions of tariffs will begin?
- Unambiguously there will be speculation. It is the most interesting subject which develops candidates. But all have to understand that the municipal enterprises are accurately regulated in the work.The tariff is checked and regulated by the national commission, coordinated with inspectorate for the prices therefore it is the regulated figures. Our tariffs are lower, than in Kherson, Odessa, Kirovograd. Prior to the beginning of the next year tariffs won't change. And here after elections - it isn't known, whether very difficult to change tariffs to predict something by results of elections in our state.
- If the plant of waste recycling plant which will make also thermal energy is constructed - as at it watches combined heat and power plant?
- The waste recycling plant is a progressive civilized idea which already ripened. And the problem of garbage needs to be solved today. To us the competitor it doesn't become. But silly not to use heat from plant not to give hot water to apartments of our citizens. In Europe these plants stand in downtowns, don't pollute environment, and give only the positive moments.
Thanks for interview, Alexander Vasilyevich. Progress to you and your enterprise!