Small green zone that on Lenin Avenue and Komsomolskaya Street crossing, on Ukraine market boondocks, already and the square it is impossible to call - the broken asphalt paths, aloone the standing small bench, the beds filled up with foliage, the semi-dried-up birches. And still after all quite recently this corner was one of the most beautiful and well-groomed vacation spots in Nikolaev.
Everything changed with arrival on this territory of "big business", in the person of the honourable citizen and the deputy of city council from Party of Regions, the great friend mayor of V. D Chaika, Anatoly DYUMIN - the owner of the Ukraine market. Trees and green lawns at first pressed iron market boxes, then - little shops. The public garden was closed from passersby new structures. Further - it is more. On the other hand constructed new business - the center, in the middle of a public garden established any rusty metal box, the cheap snack bar with the fashionable name "Pizza" was sideways attached.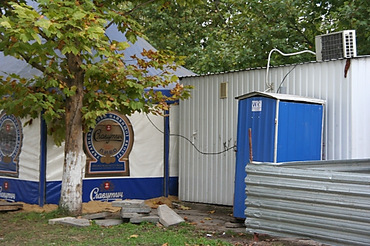 And here the next construction - the Ukraine market extends. Naturally, at the expense of the square - along Lenin Avenue from a stop "Komsomol" to business - the Mark — Plaza center, the dozens new, sheathed by plastic, boxes grew. Under a knife two trees which "business developments" became on a way already left. When construction will be complete, the square from all directions will be surrounded, as though to tell it, is far "not front" the parties of these little shops. And what it means? So that in Nikolaev one more free toilet becomes more.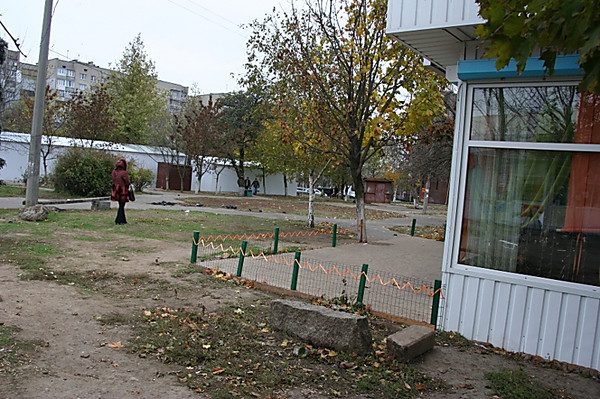 It is natural that the fact of destruction of the square can't but cause indignation of inhabitants of nearby houses - inhabitants of six high-rise buildings sent the addresses in this occasion to the mayor, to nature protection prosecutor's office, to deputies of city council. The last inquiry isn't casual - after all, on hearings, this square together with the territory under future market was transferred to the deputy Dyumin with a condition of its improvement. Square, instead of market. But, probably, inhabitants and and at honourable citizens have an idea of improvement a miscellaneous, because and all problems.Hopes for these addresses certainly, it is a little - hardly Chaika will begin to collect from the best friend who besides, absolutely free of charge rolled him to Karlovy Vary! - for nasty square any there. The square it is more, the square it is less - to Vladimir Dmitrich all the same if only the buddy remained it is happy. And here is how in a threshold of elections deputies of the City Council will treat destruction of the next green zone.
Or dog doesn't eat dog?