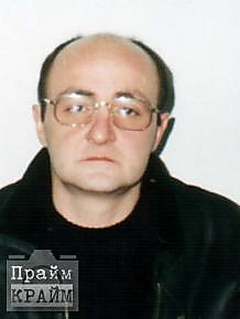 On Friday in Nikolaev as a result of joint operation of staff of "anti-thieves'" department GUBOP of the Ministry of Internal Affairs of Ukraine, the Organized Crime Control Department of the Nikolaev area, and also the affiliated staff of the Ministry of Internal Affairs of Georgia was detained 39 - summer Georgian "thief in law" Paat Chkhartishvili who is better known in criminal circles by nickname Prinze. At personal inspection at Chkhartishvili who was in a condition of drug intoxication, heroin was withdrawn.
According to Prime Kraym news agency, the native of Tbilisi Paat Chkhartishvili was "crowned" in Russia at the beginning of 90-x years. In October, 1994 Prinze was condemned for theft by Zamoskvoretsky court of Moscow by three and a half years of imprisonment. Prinze served sentence in Chelyabinsk region: at first in a colony of Kopeisk, and then in prison of Verkhneuralsk. In February, 1996 Chkhartishvili was transported under guard in Cover prison where adjoined powerful group "peak", headed by known Tbilisi "thief in law" Zandi Tsulukidze, transfers primecrime.ru.
After release in November, 1997 Prinze went to Georgia. In 2003 it was brought to trial for storage of drugs, however spent in prison less than a year. In 2004 Chkhartishvili got over to Ukraine, escaping from the persecutions which have begun in Georgia on "thieves in law". In Nikolaev where settled Prinze, under his supervision there were crews of thieves - the barsetochnik making thefts from cars at the expense of which "thief in law" comfortably existed. According to field investigators, Prinze spent considerable part of the income for drugs for which conceived a liking in youth.
According to operational data, now at Chkhartishvili the relations with the Georgian "thieves" living in Ukraine deteriorated. It isn't excluded that stay of its "thieves'" powers becomes a consequence of this conflict. As a result of activization of efforts of the Ukrainian militia on suppression of illegal activity of the "thieves in law", many of them preferred to leave borders of the country for a while.Speak, Paat Chkhartishvili too was going to migrate, but didn't manage to correct to itself new documents, for as suffered.