Today in Kiev two men poured red paint over a monument to Vladimir Lenin during a ceremony of his opening after is repair - restoration works.
As the correspondent of the UNIAN reports, the people who have gathered on the occasion of the opening ceremony of a monument, reacted instantly - beat these men, and is rather strong.
As a result of both troublemakers the militia took away.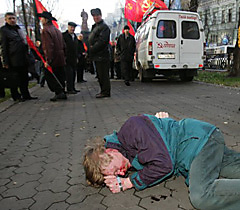 The damaged monument to V. Lenin restored for means of Communist party of Ukraine.
At the same time, as reported the UNIAN in a press - service IN "Svoboda", on Bessarabka there is the protest action organized IN "Freedom" and Committee of decommunization, against opening of a monument to V. Lenin. More than two hundred Ukrainian nationalists with national, "svobodovsky" also are red - black flags which make a protest against establishment of a monument to V. Lenin, stopped columns of special forces of the Ministry of Internal Affairs "Golden eagle", having barred them the way.
As reported the UNIAN, on June 30 of this year members of the right radical nationalist organization damaged a monument to Lenin in the center of Kiev (beat off a nose and a hand). On this fact criminal case on h was brought. 2. Art. 296 (hooliganism) of the Criminal code of Ukraine, also are detained 5 people. They explained the actions by that in Ukraine the Decree of the President of Ukraine Victor YUSHCHENKO "About additional measures for celebration of memory of victims of the Holodomor of 1932-1933 in Ukraine" in which, in particular, it is a question of dismantle of monuments and the memorable signs devoted to persons, involved in the organization and implementation of golodomor and political repressions in Ukraine isn't carried out.
The monument to V. Lenin was established in capital T. Shevchenko Boulevard and is open on December 5, 1946. Authors of a monument - the sculptor S.D.Merkurov, architects - A.V.Vlasov and V.D. Yelizarov. Height of a figure of the leader 3,45 meters, it is cut from darkly - the red polished granite.