2009 was declared by the Ministry of Internal Affairs of Ukraine year of counteraction of "street" crime and to property crimes. Unlit streets, parks, squares, gates, entrances, elevators - here the main places of criminal encroachments such, - are approved by the head of department of public safety of Regional Department of the Ministry of Internal Affairs of Ukraine Anatoly Trishchuk.
Young people age till 26 years appear malefactors, as a rule. Generally robbers select to themselves the victim which for one reason or another won't be able to show resistance. Most often it is children, teenagers, women or citizens who are in an alcohol intoxication.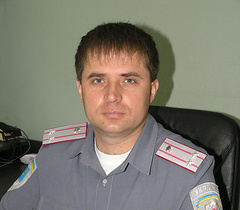 "Not the sober person - the potential victim of robbers. Fact well-known. Such citizens ask for the help in militia, as a rule, only through quite long time and details of an event which occurred, don't remember. In such cases to militiamen to work much more difficult", - A. Trishchuk explained.
According to the chief of UOB Regional Department of the Ministry of Internal Affairs of Ukraine in the Nikolaev area, today in the territory of area about 239 public formations which total more than 4000 members function. They help militiamen to support a law and order on streets. Since the beginning of 2009 with their participation 223 crimes are solved, 1332 offenders are detained. Except statistics, positive examples of interaction of militia with the population are in each area, namely is a protection of a public order during various cultural - mass and festive actions.