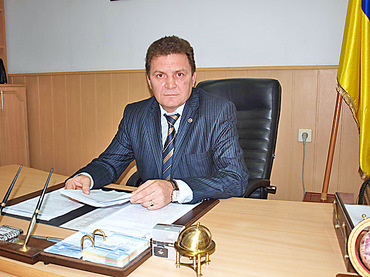 Today, on December 15, in Ukraine Day of employees of court which was determined by the Decree of the President of 08.12.2000 No. 1318/2000 is celebrated. On the eve of this holiday we managed to communicate to the chairman of appellate court of the Nikolaev area Ivan Homik.
The dry statistics will tell about achievements and problems which exist in vessels of the Nikolaev area, but without it anywhere not much. So, in 9 months of the current year vessels of the Nikolaev area considered about 109 thousand cases. From them: the criminal - 4658, civil - 36752, administrative - 30112, cases of administrative offenses - 37430. Average monthly load of one judge makes more than 107 cases.
Is interesting that fact that, according to the chairman of appellate court of the Nikolaev area, since the beginning of year 166 cases on accountability for commission of corruption acts are considered also - on them secretaries of village and settlement councils were most often brought.
About it and not only the speech in our conversation with the Honored Lawyer of Ukraine Ivan Homik will go.
- Ivan Mikhaylovich, for a start tell, please, about staffing of judicial authorities of the Nikolaev area.
Today in area 206 judges work. These are judges of all vessels. There are also free vacancies. Only in Appellate court of 20 free vacancies. You have to understand that very long - the person has to pass a way to the judge through the Supreme council of justice, passed through the Secretariat of the President and wait while them appoint to a position of the judge.
- And what is the time passes before appointment to the post with all these procedures? And what world experience exists in this direction?
"The way to appointment" lasts not less than 1 - 1,5 years. If to speak about world practice, it is possible to allocate a choice of judges with the public. Today you can hear these messages and at us. Before elections in programs of many candidates for president and programs of parties such message sounds.
- So, maybe, it is correct?
Frankly speaking, I against such approach. Business all that then the judicial system will be very politized. Here in the same Austria the people elect judges, and they go, as representatives of parties. Parties offer the person, and people already look as far as the person is professional. There not really strongly pay attention to what party nominated the person. At us I am afraid that society is so politized that all will turn it into political opposition. Such option is good at a full depoliticization of society to which to us it is very far.
- And what mechanisms exist today in Ukraine to prevent politicization of judges? After all we see that some judges and on single questions take today a position of this or that political force.
I don't think that it in our system obviously and takes place. In fact, judges out of policy.
- All perfectly understand that during elections load of judges increases. Tell, please, from the own experience, what claims most often move?
I will tell you that during Presidential election of 2004 I worked as the judge of criminal chamber therefore it concerned me a little. And here my colleagues had to consider many claims about inclusion of people in electoral registers, claims about honor and dignity protection …
During election campaign courts work in a particular treatment - on days off watch is established and it is necessary, sometimes to consider claims and during week-end.
Such watch in the Nikolaev vessels is already entered.
Very difficult situation in days after elections when results of elections on sites are challenged.
- Whether and during elections feel courts pressure from political forces?
I will tell honestly, nobody presses. I don't know that in administrative courts and on places, but at us nobody speaks about such facts. You understand, today time another and isn't so easy to influence somebody.
- And someone tries to put pressure? Here, as far as I remember, representatives of the Department of Internal Affairs constantly pay tribute to Appellate court of the Nikolaev area and declare adherence to principles in consideration of all affairs. How you manage "to maintain reputation"?
You know, it everything depends on judges. At us isn't present such to make the decision to please to someone. There is a law, and we to it adheres.It is necessary to arrive on conscience and on justice. It is my personal vital principle. I adhere to it and I speak about it to judges. It is necessary to remember that, probably, it is necessary to answer not only here, not only before people, but also before other court.
I am grateful to representatives of the Ministry of Internal Affairs for such assessment.
- It is possible to notice that not only in the Nikolaev area highly appreciate work of regional court. About his authority speak and at the level of the country. How it was succeeded to achieve it?
Here it is necessary to watch what cases are considered in our court. The appellate court was repeatedly appointed by the Supreme Court for consideration of the most resonant affairs in the south of Ukraine. At present, for example, there are hearings of large-scale business of a so-called Odessa gang - 28 accused, 320 volumes … This largest business for all history of our court - specially for it was necessary to convert a big hall of court sessions, in former defendants simply wouldn't be located …
Now in production there are criminal cases on several judges from the next areas …
This on the one hand huge trust, and with another - huge responsibility.
- Ivan Mikhaylovich, here many conversations goes about judicial reform. What your position in the matter?
I want to note that the public perceives conversations on judicial reform in a narrow sense this word. All imagine that this modification of acts which regulate only work of judges. Many think that if the Law "About Judicial System" and the Law "About the Status of Judges" only will change, everything will be good … But after all it not so.
- Today many say that decisions of the courts aren't executed. How you consider why?
Execution of judgments is provided by public service. And, it is valid in this direction there is an array of problems. On the average, across Ukraine 22% of decisions of the courts are executed only is very little! Not so long ago, when control of execution of judgments remained in judicial system, it is figure was much higher - on appellate court this indicator exceeded 90 percent, it is possible to tell that all judgments were executed practically. But today it is impossible to blame for everything executive service. It is impossible to say that they don't work. Is both objective, and the subjective reasons.The public executive service should work very difficult - rooms aren't present, young specialists … the legislation in this system is worked not enough.
Solutions of problems are, and they are also actively discussed. After all not executed judgments not simply bring to naught enormous work of very many people - militiamen, judges … It leads to disappointment in system and it is the most important.
- And how you consider, whether there is a hope for situation change?
The hope always is. In Russia, for example, at service of bailiffs, already now - we will tell very considerable powers, in a year it took out more than 800 thousand resolutions on restriction of the right of departure abroad that didn't allow very many debtors to evade responsibility. At us today, for example, creation of institute of public (jury) performers is discussed that, in a certain measure, would allow to solve a problem. And for this purpose it isn't necessary grandiose financial resources - the political will is necessary only.
- You are a chairman of appellate court of area, but personally you hear many resonant cases. What of your practice of business were remembered most of all?
- Was affairs much, and I remember, probably, everything … Distinctly, in details, I remember the first sentence. Not once I had to pronounce and death sentences for especially serious crimes. It is difficult to speak about it. It is very heavy to remain indifferent and when you study facts of the case, after all the judge - the live person, it is necessary to empathize sufferings of victims … Don't believe that it is possible to get used to it sometime. But the judge has to be objective. And the business most difficult and memorable for me - probably, Fateeva's this business. Mother who for the sake of the lover killed two children. There too the exceptional measure of punishment …
was applied
Ivan Mikhaylovich, спасидо for interview.