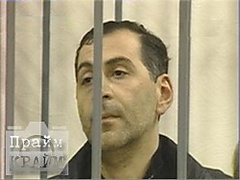 Employees of Head department on fight against organized crime of the Ministry of Internal Affairs of Ukraine together with the Organized Crime Control Department GUMVD in Kiev detained influential "thief in law" Ramaz Tsikoridze known in criminal circles known as Ramaz Kutaissky, the native of the city of Baghdad of the Republic Georgia.
Also with Ramaz his assistant who provided "a secret image" lives of "thief in law" was detained, in particular, agreed about meetings, selected habitats, controlled activity of the subordinated criminal groups.
In the territory of Ukraine Ramaz Kutaissky tried to influence a criminogenic situation actively. It together with other criminal authorities took part in "thieves' concourses", created criminal groups which specialized on property and automobile thefts.
In 2008 Ramaz Kutaissky led an active "thieves'" life in the territory of the Russian Federation - was "looking" across the Rostov region. In March of this year he was detained by workers the Organized Crime Control Department of the Russian Federation and deported to Georgia through Ukraine. But there Ramaz didn't reach. It escaped from the plane in Ukraine and so far led "a thieves' life" in Kiev.
Now Ramaz together with the colleague is detained on suspicion in commission of the crimes provided ст.ст.185 (theft), 309 (forgery, the seals, stamps and forms, their sale, use of counterfeit documents) and 358 (illegal production, production, acquisition, storage, transportation or transfer of drugs, psychotropic substances or their analogs without sales objective) the Criminal code of Ukraine, reports a press - service GUBOP Ministry of Internal Affairs of Ukraine.