The ex-the Minister of Economics Bogdan Danilishin look for by means of the Interpol.
His name appears on a site of the Interpol in the list of searched persons.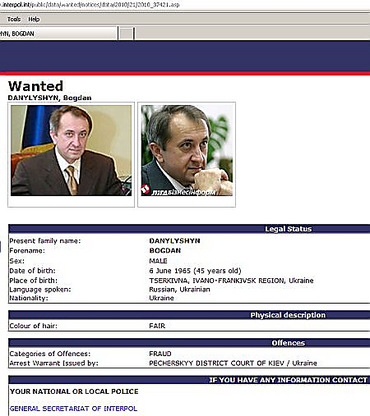 Page screen from a site of "Interpol"
It is known that Danilishin accuse of causing to the state of Ukraine of losses on 4,5 million UAH at GP coordination "The international airport "Borispol" of application of procedure of purchase at one participant.
Besides, it suspect of illegal purchase of fuel for army in 2008-2009 - that increases "losses to the state" by 14 million hryvnias.
On August 10 bodies of prosecutor's office put Danilishin on the wanted list because it wasn't on interrogations to the investigator.
According to GPU after that the Pechersky district court of Kiev satisfied the address of the investigator on the specified criminal case, having decided to detain Danilishin and under guards to deliver it in court for election of a measure of restraint.
The Minister of Internal Affairs of Ukraine Anatoly Mogilev declared on August 30 readiness to ask for the help in search ex-the minister the Interpol.
Earlier in mass media there was information that Danilishin is in Germany. At the same time, his colleagues from BYuT declared that don't know where now there is the former minister.