Source: cripo.com.ua
Directors of the market on Sedov St. Cherkassy) shot on a threshold of own house at witnesses among whom there are also children. The tragedy was played on Tuesday August 26 in the evening in the face of inhabitants of Vodopyanov Lane.
Everything occurred almost just as in a final scene of a known Italian TV series "Octopus" (when the commissioner of Catania), with that only a difference was killed that bloody massacre with 46 - the summer director of the "sedovsky" market Yury Nechiporenko, was not so cine.

Nechiporenko's about 20.00 car stopped near his house which is to the address of Vodopyanov Lane 27. At a wheel there was Yury Nechiporenko. Suddenly I drove up to the car, goodness knows where from undertaken scooter, faces of the driver and which passenger, reliably hid pressure helmets. At the same moment four shots thundered. The driver with two bullets in a breast, was tumbled down on a steering wheel. Attacking instantly disappeared, having left on street asphalt four sleeves from the gun "TT". Murderers weren't confused obviously by that circumstance that they deprived of human life at witnesses: directly in the face of passersby, neighbors, and the children playing near the house.

The shown impudence, according to citizens, is caused by that the criminals feel full impunity in the city. And in the truth, still any "custom-made" murder committed in Cherkassy in recent years, isn't opened. In the same that Nechiporenko's death not accident, namely "zakazukh", nobody doubts Cherkasasakh.

Militiamen don't refuse the version of "custom-made" murder also. Prosecutors of area told to journalists only that upon murder of the director of the market criminal case according to Art. 115 of the Criminal Code of Ukraine (premeditated murder) is brought. In regional Regional Department of the Ministry of Internal Affairs at all comments refused, having referred to that investigation is conducted by prosecutor's office.

On the funeral which has taken place on Thursday, many people, many of which - market experts came. The only thing that from them it was succeeded to hear is a statement that Nechiporenko - the victim of hired killers. And thus, the uniform word didn't sound about customers. Most likely their names are well-known everything therefore them and don't sound. Are afraid. And, probably, not for nothing. You stir less - you live more, the known principle, allowing to survive in through corrupted country.

Journalists, traditionally, were more courageous, having assumed that the death of the director of the market, most likely is connected with desire to redistribute spheres of influence in the city markets, or that bringing an order in the Sedova market, Nechiporenko strong stepped on a tail to the drug dealers, trading in a potion directly among malls.

The only official who wasn't afraid to speak about possible motives of the committed crime, there was a retired militia colonel, and nowadays the deputy of regional council, the chairman of the constant deputy commission on legal policy, legality and a law and order Ivan Krivovyaz. In his opinion, death of the former ensign of SBU, the fighter of special forces "Alpha" of Yury Nechiporenko whom life forced to remove a military uniform and to go from intelligence service to the sphere of private business, it is directly connected with desire which whom to select a share which his director had from market profit.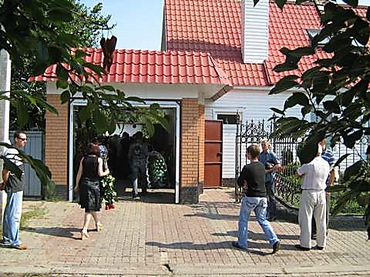 - Yury Nechiporenko was the honest, direct and basic person, - Ivan Krivovyaz speaks. Business in which wouldn't be engaged, always I finished. I loved an order in everything, as well as it is necessary to the military. With its arrival to a position of the director, in the market a number of changes to the best took place. On markets, so it developed historically, representatives of criminals took, take, and will take money from businessmen. The form changes, but the essence remains. Always, to resolve this or that issue, the businessman before will address to market administration, has to give the unlimited sum of money to the shaven-headed guy who lounges about where - that nearby. Without it in administration will find thousands reasons, from - for which "the positive solution of a question is impossible". And where big money turns, there, certainly there are also those who besides official administration, "operates process". That became a stumbling block between Yury Nechiporenko and these people, it isn't known. Besides Yury - the taciturn person by the nature that as you understand, publicity, in this question, didn't promote. But that any conflict was present, many knew. Behind it shadowing was long conducted. Any unknown people by cars often accompanied its car where it wouldn't go. Probably Yury Nechiporenko didn't attach it great value. And in it its mistake. For attack on Yury Nechiporenko prepared long and thoroughly.

Meanwhile the chairman of the Cherkassk regional public association of directors and employees of the Centre markets, Sergey Marchenko claims that any influence the criminals neither on administration nor on employees of the markets of the city, have no. Pier, everything at us is smooth, and these hearings only an imagination fruit, leisure fiction of inhabitants. And nobody pursued Yury Nechiporenko.

It can so and is. Here only one isn't smooth, and in any way the general context of assurances of Sergey Marchenko doesn't match. Yury Nechiporenko with two bullets in a breast lies on a city cemetery. Also it is reality. So there are which people it arranges. But hardly someone will find them. In October of last year also on the street, directly in the car the businessman who went in for pyrotechnics was shot. Still this murder isn't opened. So it is possible gloomy but to congratulate the Cherkassk militiamen surely with next "visyaky".

Unsolved remain murder and known Cherkassk criminal authorities - "Charlik", "Krava", "Kigim". In other in the case of death of the last there are some changes. But it already another story altogether.