Americans are protected from bandits by stun guns and bright light, Germans - laxative gas, and Australians - a smell … a skunk. In turn Thailanders beat off from vicious dogs foam, British - ultrasonic devices. And in Ukraine, except barrels and gas guns, you will buy nothing. In Fifth Guards shop traditional gas sprays - "Terena" and "Cobra", gas guns and revolvers - only on permission are on sale.

- The most popular - barrels: women willingly buy, men take for wives, daughters and mothers-in-law, - the selling assistant Evgeny Fedoseykin tells. - Barrels share on two look: jet and cloudy. The first it is much more convenient: the stream isn't sprayed, and "shoots" directly at the forward. They can be applied and in the closed rooms, for example, elevators, entrances, unlike cloudy from which action you can suffer and you.

As option - the pneumatic weapon: guns, guns. But they are intended first of all for sports trainings, instead of for self-defense.

They say that I pound from such "defender" too little: it only will anger the opponent, but won't do it notable harm. Besides without the permission it is possible to buy only guns with small caliber of a trunk to 4,5 mm.

It is possible to buy and "hello from the West" - small lamps - bludgeons. At first sight - an ordinary lamp, only too long - about a half a meter. But very few people know that these lamps can be used, as bludgeons. In the USA any police officer doesn't come for change without such adaptation. However, there it is authorized the law as a security measure, at us - No. To shine - please, and on bigger and don't count. In the same shop we found blinding small lamps. Similar are in great demand abroad. And from us to their thicket take as ordinary illuminants.

What how much?

There are "suppressors" of forwards on - to a miscellaneous:

Barrels - 20-35 UAH
Gas guns - 400-700 UAH
Pneumatic guns - from 400 to 9000 UAH,
Guns - 300-700.
The weapon with rubber bullets - 700-3000 UAH
Blinding small lamps: - the absolutely tiny - for 190 UAH, large - 800-900 UAH
Self-defense "on - to their"

To help to understand, these or those foreign "rescuers" are how good, "The newspaper on - Kiev" asked the instructor on self-defense of Granit club Dmitry Taranenko

1. Cylinders with foam - dogs protection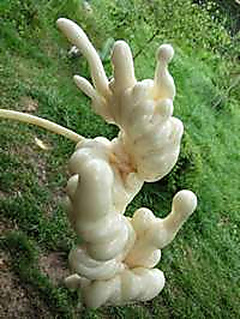 Familiar tourists saw similar devices in Thailand. The barrel (of the size of habitual to us gas) contains the foam which is instantly stiffening at dispersion. It is enough to send of it to a furious animal to a muzzle - and foam will close up eyes, airways.

- If it is the caustic foam operating by the principle of tear gas, it is quite probable that it "will disarm" a dog, - Dmitry speaks. - And here simply closing up substance can be useless. 2-3 seconds necessary for hardening, will suffice to bite. To get directly to a muzzle very difficult, after all a dog constantly in movement. It seems to me that similar foam is more likely something experimental.

2. "Spirits" for a skunk

The source of a caustic smell is placed in a tiny capsule which can be carried on a neck. The acquaintance who has visited business trip in Australia, told that saw such device on the local resident. At attack threat it is enough to squeeze a capsule that in a radius of several meters the sharp stench extended. Not the fact that it will frighten off the experienced bandit, and here the casual hooligan who is deliberating, to attack or not to attack, - quite can.

- It, incidentally, not means for hunters? - Dmitry notices. - Very much reminds the substances, urged to frighten off or on the contrary - to entice certain animals. And here it will help to be protected from the person hardly: if the robber, the tyrant or the thief has an accurate motivation, any smell him won't stop.

3. Tazer: kusyuchy bloodsucker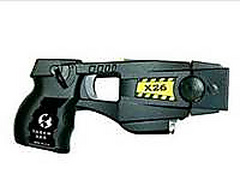 Stun gun subspecies, favourite weapon of the American police. In the special gun there are electrodes. If to shoot from this gun and electrodes stick into a body of the opponent - the electrocategory to 50 thousand volts moves.
- Our tazer are strictly forbidden, however, as well as other stun guns.But their advantage that it is possible to strike the enemy at distance of several meters, without contacting to it. It is necessary to aim properly only. In the majority of states these devices are allowed by the law for ordinary citizens.

4. Gas with laxative effect

- I heard that in Germany special gas is applied to dispersal of demonstrations - from it almost instantly there is a laxative effect. Very successful idea: nobody will suffer, but the dangerous crowd in a trice will disperse. To tell more precisely - a bullet will run up! I don't exclude that the same gas is on sale in large quantities.

5. Telescopic bludgeon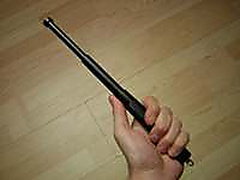 By sight - a steel tube with a diameter about 5 cm. Inside by the principle of the antenna two more equal links are put. It is easy to take them, having waved a hand.

- Portable bludgeons are very widespread in the Czech Republic, there any citizen can freely carry them. We have any bludgeons - a taboo. And in vain, means serious. If it is correct to strike blow to the opponent, it is possible to break bones. However, those "sticks" which dishonest ways appeared in Ukraine - most often the Chinese production - broke after the first blow …

6. Ultrasonic otpugivatel for dogs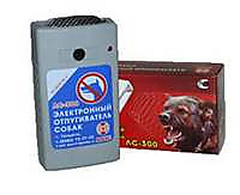 Abroad tiny boxes with ultrasound are much more popular, than in Ukraine. You press the button - and you send an ultrasonic signal towards attack. Frequencies of otpugivatel of dogs (24-25 kilohertzes) are picked up so that most effectively to influence animals, without causing in the person of feeling of discomfort.

But in the heat of passion the animal can simply not pay attention to a sound and all the same bite. It is even less hope on an otpugivatel if on you the whole rack …
snatched
- And the Ukrainian otpugivatel simply don't affect many dogs. In an ideal the animal has to be frightened and escape, but practice shows that it not always so. Probably, the reason is covered as devices.

7. Blinding lamps

Their main "counter" - very big power. If in the dark sharply to send light to eyes to the opponent, for 4-5 seconds that becomes absolutely helpless. In the field of his sight there will be only bright spot.

The western police officers mastered long ago this invention and with its help catch criminals. And simple citizens quite often put such small lamp in a pocket. In Russia and Ukraine too it is possible to get similar, however, often instead of them sell ordinary 100-watt small lamps.

The blinding lamp radiates green light in the range of 555 nanometers - this length of a wave most influences sight. In photosensitive cells of an eye special protein is responsible for perception of light - родопсин. Having absorbed light, the protein molecule for a while changes a form, and then is restored. But it concerns green beam. And here the red or blue can is irreversible to damage sight.

BY THE WAY

It is better to avoid danger

In Ukraine the extremely poor list of the resolved means of self-defense, and still they have to be by all means made in our country. Them treat:

1. Gas cylinders of a tear irritant action.

2. The device for firing by rubber bullets (only for militiamen, combatants, journalists, officers and members of their families).

3. The gas weapon (permission is necessary).

- In a critical situation "all means are good", - Dmitry Taranenko speaks. - That is, if you hit the tyrant with a bottle, a stick or still something is will be considered as lawful self-defense. Though sometimes our laws misfire, and guilty there can just be a victim, instead of the bandit. The best security measure - hands, feet, and the main thing - the head. Clever will always bypass danger.

For protection against people and dogs it is possible to use and the pneumatic weapon, the weapon with Flaubert's cartridges (the boss - the lead ball pressed in a capsule) and the daggers which aren't considered as a cold weapon (edge length - no more than 9 cm, thickness - to 2 mm; plus the obligatory certificate confirming that it not a cold weapon). And here fowling pieces aren't intended for self-defense, they can't be carried with themselves. But to store houses - please. And if bandits rush into the apartment, you can use a gun rightfully.

PAY ATTENTION

"Abroad" won't help us …

Many Ukrainians don't know that it is possible to import on the territory of Ukraine from - for borders, and that - No. The same concerns also export of our means of self-defense abroad. Dmitry Taranenko told us how to avoid unpleasant situations.

What means of self-defense can be imported from - for borders?

By and large, it is impossible to import practically anything. Stun guns under a ban as at us they aren't fixed in any way legislatively. The gas weapon in Ukraine is allowed only domestic.The same - and for the weapon with rubber bullets. If the customs officer is confused by the structure specified on a label of a barrel, - will confiscate. Knifes, blades, daggers can be taken only with the certificate.

What it is possible to take out abroad?

At customs of that country where you go, can quite withdraw illegal, by their rules, means. For example, in Russia vykidny knifes and knifes like "butterfly" are strictly forbidden. Everyone can buy them from us. In the Czech Republic - on the contrary - freely carry knives for which our militia would detain at once. The same concerns gas sprays. It isn't excluded that in "others monastery" their filler - a taboo. It is much simpler to buy self-defense already after arrival, in weapon shop.

There was a case

"I rushed on the tyrant with passionate embraces"

Victoria Ozheled, accountant:

- In the past I managed to escape from the tyrant in the improbable way - I attacked it. Business was so: about midnight I came back home from the godmother. From its apartment to mine - three minutes of walking. Nevertheless, any maniac stuck to me. Everything was, as in movies: it put a knife to a throat, demanded that I undressed. And itself nervously I looked around and at the same time I smoked. In the beginning I wildly was frightened, tried to cry - it slightly резанул on a neck, blood went.

And here me as if changed. Having remembered that tyrants are excited by frightened victim, I went to approach. I threw the arms round it a neck with words "well give don't hesitate more likely! " The become stupid man moved back back. I - on it, with wild eyes. Generally, my unaccomplished maniac retired. Only after that I with a roar failed on the earth. If it is honest, I didn't believe to the last that this course will work. By the way, I absolutely forgot that in a pocket the gas spray lay.