Within investigation of the criminal case brought upon plunder of diesel fuel in the territory of the Nikolaev area, the staff of Management on fight against organized crime of UMVD of Ukraine in the Nikolaev area, yesterday, on April 6, on suspicion in participation in this crime, it was detained five more people. Among detainees, allegedly, there was also a known businessman in NikolaevIgor Naumenko. About it "
Crime. Is NOT PRESENT"
reported sources in UMVD of Ukraine in the Nikolaev area.
We will remind, "Crime. Is NOT PRESENT" wrote that on April 4 staff of the Nikolaev Organized Crime Control Department detained a gang which stole diesel fuel on the railroad. Then, during carrying out expeditious actions, 27 000 more liters of diesel fuel were revealed and withdrawn.
According to a source, in particular,Igor Naumenko, which already came into the view earlier of the Nikolaev militiamen,known in certain circles as "Naum", the Organized Crime Control Department of UMVD of Ukraine in the Nikolaev area was allegedly detained by the staff of special forces "Falcon" at entry into Nikolaev from the Odessa route. At present law enforcement officers check it on participation in commission of crime on the brought criminal case.
According to separate mass media,Igor Naumenko, allegedly, is local "looking" and it was several times made responsible.
At the same time, it should be noted that this businessman (has interests in agriculture) is known also as the person who helps development of local amatorsky soccer.
Igor Naumenko- president of football club "Voronovka", which acts in championship of the Nikolaev area in soccer, financially supports DYuSSh of municipal football club "Nikolaev", is the member of executive committee of the Nikolaev federation of soccer and supports team of veterans of IFC "Nikolaev".
Igor Naumenko (the second at the left) among spare veterans of IFC "Nikolaev "on a match with veterans of Kiev "Dynamo"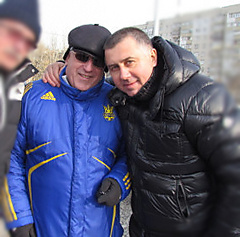 Igor Naumenko and deputy from Party of Regions Nikolay Eropunov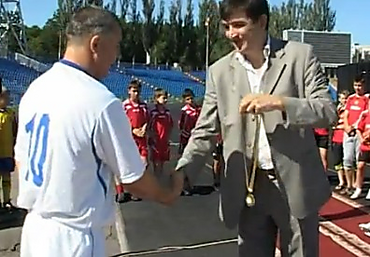 Naumenko receives a medal from hands of the executive director of PFL of Ukraine Sergey Makarov during celebrations on the occasion of an IFC exit "Nikolaev" in the First league
Today some already started talking about custom-made character of detentionNaumenkoand about that the order for it, allegedly, arrived from his opponents.
According to sources in law enforcement agencies, opposition between separate groups of persons, to one of which refer and "Naum", very long time proceeds already and goes over with variable success for each of them. To one of rounds of this opposition carry and firefight in Nikolaev after which to one of its participants amputated part of a foot. Also, to this opposition refer also firefight in the center of Nikolaev, which occurred three years ago.
It is necessary to emphasize thaton the official site of UMVD of Ukraine in the Nikolaev areaany information on this criminal case and on detention10 people, as always, didn't appear.