Nikolaev businessmanIgor Naumenkoit was invited in Management on fight against organized crime of UMVD of Ukraine in the Nikolaev area as the witness. About it "Crime. Is NOT PRESENT" reported sources in law enforcement agencies of Nikolayevshchina.
We will remind, "Crime. Is NOT PRESENT" wrote that yesterday in Nikolaev employees the Organized Crime Control Department detained "Naum's" local authority. Earlier it was reported that police officers checked it on participation to to gang which stole diesel fuel on the railroad in the territory of the Nikolaev area.
"Igor Naumenkoyesterday it was invited in management as the witness on one of the brought criminal cases. With this citizen discussion was led and indications are taken. On the same day the witness was released home", - reported a source.
We will note that according to separate mass media,Igor Naumenko, allegedly, is local "looking" and it was several times made responsible.
At the same time, it should be noted that this businessman (has interests in agriculture) is known also as the person who helps development of local amatorsky soccer.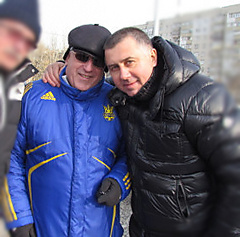 Igor Naumenko and deputy from Party of Regions Nikolay Eropunov
Igor Naumenko- president of football club "Voronovka", which acts in championship of the Nikolaev area in soccer, financially supports DYuSSh of municipal football club "Nikolaev", is the member of executive committee of the Nikolaev federation of soccer and supports team of veterans of IFC "Nikolaev".