On Thursday, April 26, in Appellate court of the Nikolaev area meeting of board of judges on consideration of the appeal of the lawyer condemned on six years of imprisonmenttook placeAlexey Kazimirov of Vladimir Timoshin, which counted a sentence of the Central district court of Nikolaev of January 26, 2012 unfair.
We will remind, "Crime. Is NOT PRESENT" earlier reported thatAlexey Kazimirov, brought down in February, 2011 to death the Nikolaev studentTo Yuli Kalanchev, the court sentenced to six years of prison and compensation of moral damage to the dissatisfied party. However the sentence was read without presence mostKazimirovaand his defenderVladimirTimoshina, as according to the last, invitations or notices to meeting to it and his client didn't come. However he was put on the wanted list and yesterday, on April 25, police officers placed it in a pre-trial detention center. Kazimirov's party declares that is illegal.
At the beginning of meeting as already reported "Crime. Is NOT PRESENT", the presiding judgeLeonid RzhepetskyI made a break that the emergency medical service drew a conclusion, whether canCassimeresto participate in meeting, as he declared on a question of the judge "That with you? " that he "thinks nothing, almost sees nothing and he has a strong headache".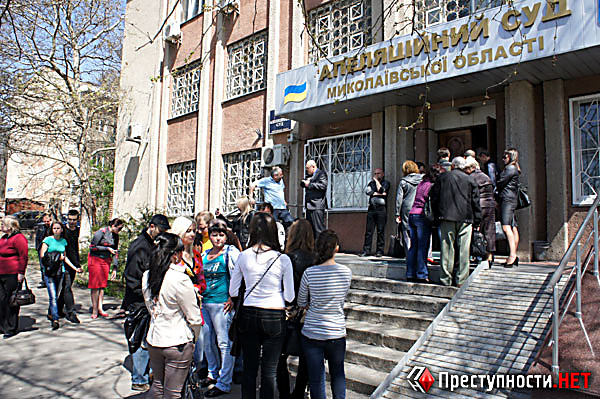 Many people came to meeting, among them there were also the people, not the first year protesters against a lawlessness in law enforcement agencies and the activists of the movement "Bulk Proti Bezzakonnya" organizing meetings in support of Oksana Makar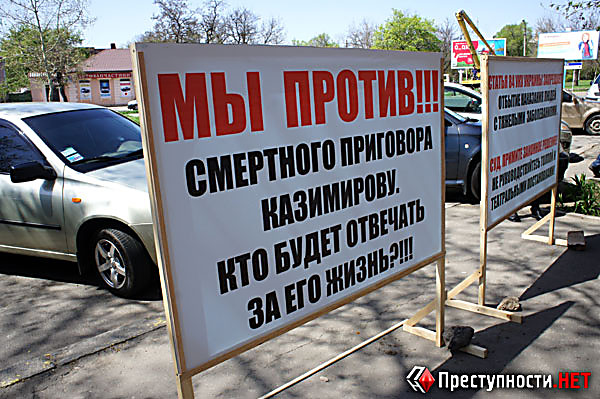 At the same time Kazimirov's relatives made the posters, urging court not to be guided by crowd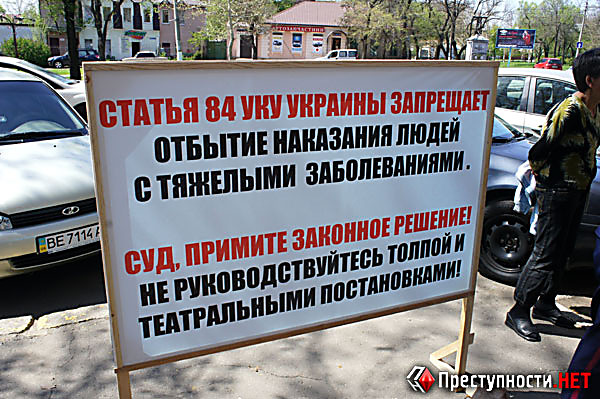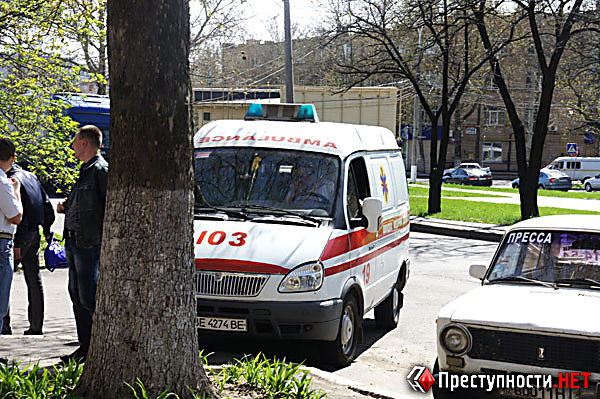 Doctors measured pressure Kazimirova and, according to the judge, gave it meditsinchky help
After a break the court declared that physicians gave help condemned and it is possible to continue meeting.LawyerVladimir TimoshinI read the appeal, in which pointed to court to a set of contradictions in indications of witnesses of road accident, that in the incident there is a share of fault of the victim who was imprudently crossing the road and that in a sentence of the Central district court medical confirmations of a serious illnessaren't consideredAlexey Kazimirov.
So, he emphasized thatCassimeresit is recognized as the disabled person of 2 groups and that he has a brain tumor - an oncological disease of 3-4 stages according to the International classification. Besides, as argument Timoshin provided to court similar affairs from the Highest specialized and Supreme vessels which in similar cases justified the condemned. Proceeding from this and many other,TimoshinI asked court to consider a state of health condemned which gives the grounds according to the Law of Ukraine "About amnesty" 2011 to be released from the conclusion, and also to hold an additional consequence on the this case.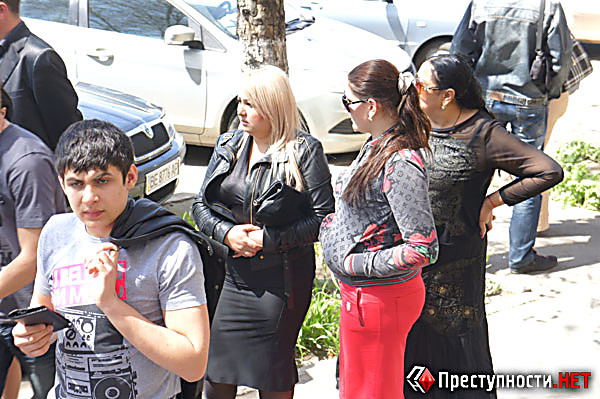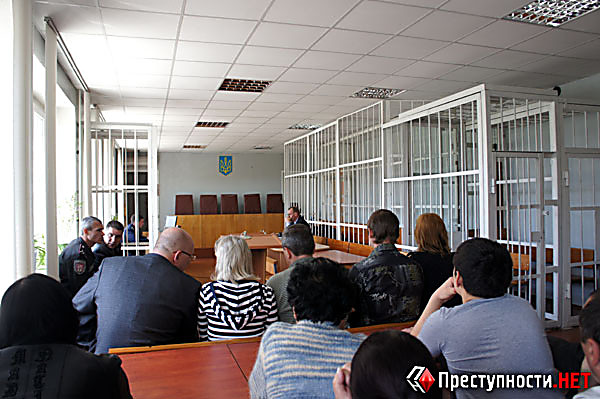 On it parents lostYulia Kalanchevaasked court not to satisfy the appeal, as, according to them,Kazimirovait is impossible to release on freedom as "on a dock it appeared not casually", having made before this road accident six more other accidents through his fault as a result of which too there were victims. The representative of the dissatisfied party emphasized that, asCassimeresI went on forbidding signal of the traffic light, at an increased speed to 80 km/h, I didn't give signals of the victim crossing the road, and also I didn't brake and I didn't stop, he considers a sentence of court of 1 instance fair.
After short meeting the board of judges made the decision not to satisfy the appealTimoshinaand to leave a sentenceTo Kazimirovwithout changes. Condemned the paddywagon took away in a pre-trial detention center.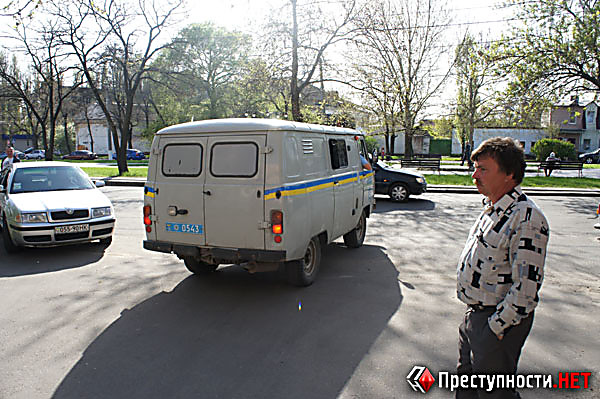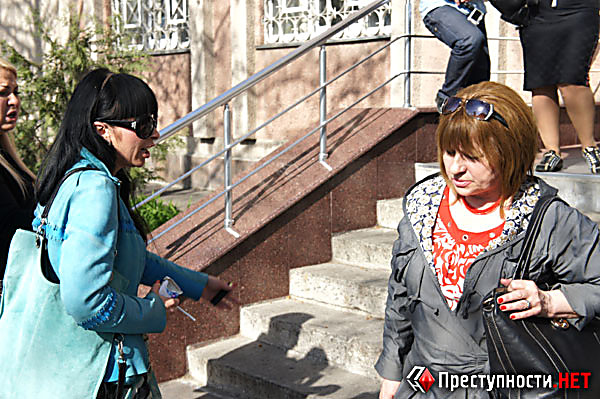 The wife condemned Lesya Shevchenko (at the left)
As well as it was supposed, after meeting didn't do without the conflicts between relatives of the victim and condemned. Only this time skirmish was short: according to the husband lostVictor Kalanchev, wifeAlexey KazimirovLesya Shevchenkoafter meeting I began to threaten it with punishment that "you отпетушат" and that they already prepare for it.To motherVictorI declared that relativesAlexey Kazimirovto it promised that it will appear on a cowl of same "Mersedes'a" on which condemned I brought down the girl. After that relativesYulia Kalanchevawent to city department of militia to write the application for threats.
Sister Kazimirova,Zinaida, at the same time, during a break in meeting I declared to the correspondent "Crime. Is NOT PRESENT" that the party of victims has big communications in Kiev which help them to condemnKazimirova, besides, she declared that isn't afraid to tell about how the investigator who ran this business, suggested to pay it 3000 dollars, but those refused because they have no money. Zinaida insisted that the prison for her brother with such diagnosis is a death, and road accident which he made is an accident and "such can happen to everyone".