During a match "IFC "Nikolaev" - "Field" (Ternopol) fans developed an unusual banner.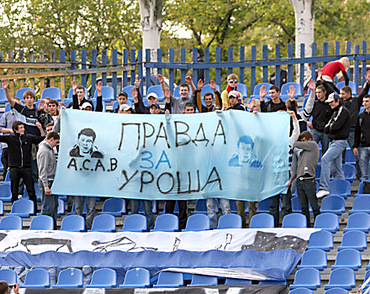 In September Belgrad "Tsrvena Zvezda's" fan was sentenced by a judgment to 10 years of prison for attempt at murder of the police officer. According to the official version, 20 - summer Urosh Misich attacked the police officer during a match with "Hejduk" in December of last year. The fan put to the police officer multiple burns and compelled that to open precautionary fire in air.
But there is also other version of these events. The police agent in the civilian shot with the camera of fans of "Tsrvena Zvezda". Fans took away a video camera then the police officer got the gun and started scorching extensively - only by miracle nobody suffered. After that on the fans protecting the life, the special group of police collapsed. Rub sprained under a hand of the fan were grabbed.
And here sentence. Ten years of prison to one of three of detainees became shock for fans. The sentence says: for "attempt at life of the police officer" (allegedly Urosh tried to thrust a fusee into a mouth to the police officer though experts found on his body only a number of slight injuries).
On the following match after the sentence announcement "Tsrvena Zvezda's" players contacted in t-shirts with Misich's portraits and an inscription "the truth Urosh". Fans of other Serbian clubs already expressed the position banners with a similar inscription.
The wave of fan solidarity came and to Nikolaev. On an IFC match "Nikolaev" - "Field" (Ternopol) "corsairs" developed on a tribune a banner in support of Urosh Misich.