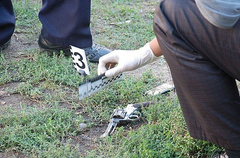 In Nikolaev on Monday, September 24, at 8:20 in the yard of multi-storey buildings No. 40, 42, 42а, 42б on Lazurnaya Street militiamen performed operation on detention of the suspect of commission of crime during that at them began to shoot from a window, reported a site «News - N».
So, inhabitants of the above houses heard shouts, and then shots. Having run up to windows, they saw in the yard group of people in civil clothes and a militia form.
As it became clear, the staff of the regional Department of Internal Affairs within investigated criminal case carried out detention of the suspect of commission of crime. Detained I lived in one of nearby houses and I left to the yard to walk with a dog.
At the time of detention the suspect tried to show resistance, started shouting: «Help! Lawlessness!». Thus he tried to throw out being at him behind a belt a revolver and the mobile phone.
At this time from a window of one of apartments of the house No. 42a some shots were distributed. Shot at police officers with the purpose to help the detainee, or firing was conducted on purpose «to scare» , it isn't clear yet.
Despite all arisen difficulties, the suspect was detained. Police officers also detained shooting of a window and now find out, for what reason it opened fire.
To the place of incident I arrived quickly - an investigation team, the investigator experts NIIEKTS UMVD of Ukraine in the Nikolaev area. Scene examine, witnesses are interrogated.
Besides, subjects which the criminal tried to dump were found: revolver of system «Revolver» with cartridges and mobile phone.