On Thursday morning, on November 1, in Nikolaev unknown made attempt at murder of the owner of a network of gas stations «Rank» . About it «Crime. Is NOT PRESENT» reported reliable sources in the Ministry of Internal Affairs of Ukraine.
As it became known, in the house yard where the businessman lives, at gate it was established «extension» with the grenadeRGD-5. When the car left from the yard, it ran into a scaffold and there was an explosion.
The businessman didn't suffer. From explosion at the car damaged back wheels and a body.
Law enforcement officers, Mchsniki work at a scene, is investigative - task force.
We will remind, earlier it was reported about how in February of the current year the criminal case concerning those was brought, that company «Rank» I didn't pay more than 7,5 million hryvnias to the budget.
Reference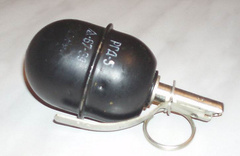 RGD-5—the Soviet offensive manual grenade, belongs to antipersonnel fragmental manual grenades of remote action of offensive type.
Extension- the cord used for the organization of a mine of a trap. Sometimes so call a mine. Also instead of a cord the laser beam at which crossing there is an explosion can be used.