The impression that judicial examination in the matter of Igor Naumenko who is known in certain circles as is made «Naum» and, according to information GUBOP of the Ministry of Internal Affairs of Ukraine, positioned himself as «looking» , by someone it is intentionally tightened.
Such opinion was expressed by the vice-chairman of federation of soccer of the city of Nikolaev and, in combination, the chief of football club «Voronovka» Alexander Bobrov, after next hearing of business in Leninsk district court of the city of Nikolaev. About it reports the edition «Nikolaev soccer».
We will remind, earlier it was reported that Igor Naumenko fall of 2012 I was it is detained on suspicion in illegal handling of the weapon.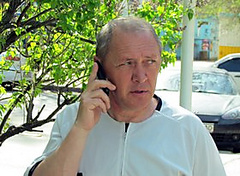 According to Bobrov, him expelled from a court hall during the last meeting.
«In court I was present at quality of the ordinary viewer. I didn't make any speech. I was revolted by actions and words of this expert. He thinks that all around– one morons who aren't understanding such terms, as «file» , «сд - rum» and so on. And I spoke from a place: «Why you make a fool of all? Here that–idiots sit?» And after that the judge Zakharchenko removed me from a hall. In twenty minutes court session ended. It postponed to February 25, in connection with absence of witnesses. It was the fifth or sixth court session. But all of them are persistently tightened: the judge constantly should call someone from charge because to court don't come that соколята, ubopovets, that witnesses. The impression is made that any "director" skillfully manipulates process with one purpose–as it is possible to keep more long than Igor Naumenko under arrest» , - A.Bobrov told.
According to the representative of federation of soccer of the city of Nikolaev, Igor Naumenko feels vigorously.
«How Igor Borisovich looks? He looks good, is invigorated, hopes for fair result.On courts there comes Igor's mother, native, friends on football life» , - storyываетAlexander Bobrov.
At the same time, it should be noted that while «looking» «Naum» I was on recognizance not to leave, the governor of the Nikolaev area managed to speak itNikolay Kruglov –he declared that has information that «this person lives not in frets with the law» .
Itself Igor Naumenko a few days ago I declared that the weapon to it was thrown by militiamen also I told how investigators on its business often change.
We will remind also that speaking about Igor Naumenko, the chief of UMVD of Ukraine in the Nikolaev area the general - the militia major Valentin Parsenyuk I positioned it as "the legalized businessman".