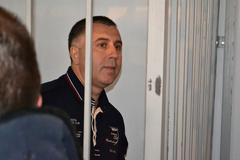 On Monday, April 1, in court of Leninsky district of the city of Nikolaev passed a court session in the matter of the Nikolaev businessman Igor Naumenko known in certain circles as «Naum».
It is known that on March 29 on the this case passed judicial debate. And today the court provided to Igor Naumenko the last word before being removed to the consultative room for decision-making on the this case.
So, during the last word the businessman Naumenko noted that in recent years at his place passed very many searches.
- At me in a year on 13 searches did. When my friend sat down, so accusers did three searches because I objected to it that it is dishonest. Last year at me made four searches. At my place never can be nothing in principle. I never held nothing. And if was, would hide and anything in the territory of the house didn't find, - Naumenko noted.
Also the businessman noted that to him spoke to pass into other party. Thus it didn't concretize, about what party there is a speech.
- To me speak: «You not in that party». I'm saying: «I am apolitical». Answer: «Go to that party». I won't go because one party sells, another betrays. Those give term, and those give still troubles. I am not connected not with it everything, - Igor Naumenko summarized.
On the this case the court will render a verdict on Thursday, April 4.
As it was reported earlier, Igor Naumenko in the fall of 2012 was it is detained on suspicion in the illegal handling of the weapon.
Naumenko already repeatedly declared that the weapon to it threw militiamen, also I told how investigators on its business often change.
Thus colleagues of the defendant declared that militiamen removed the video file, where it is photographed as they throw the gun.