The Nikolaev area, as well as all Ukraine, continues "to reap the fruits" credit boom which was observed the last some years.
As it became known"Crime. Is NOT PRESENT", at once some Nikolaev students became victims of credit fraud. On November 7, 2008 several pupils of one of educational institutions of Nikolaev came letters - preventions from the Credit union "The Credit — Power" located in Kherson. In these letters it was claimed that else in September between recipients and this credit union the credit agreement according to which credit obligations aren't fulfilled was signed. In this regard students were offered to extinguish debt within 10 days, differently the credit union will file a lawsuit against defaulters.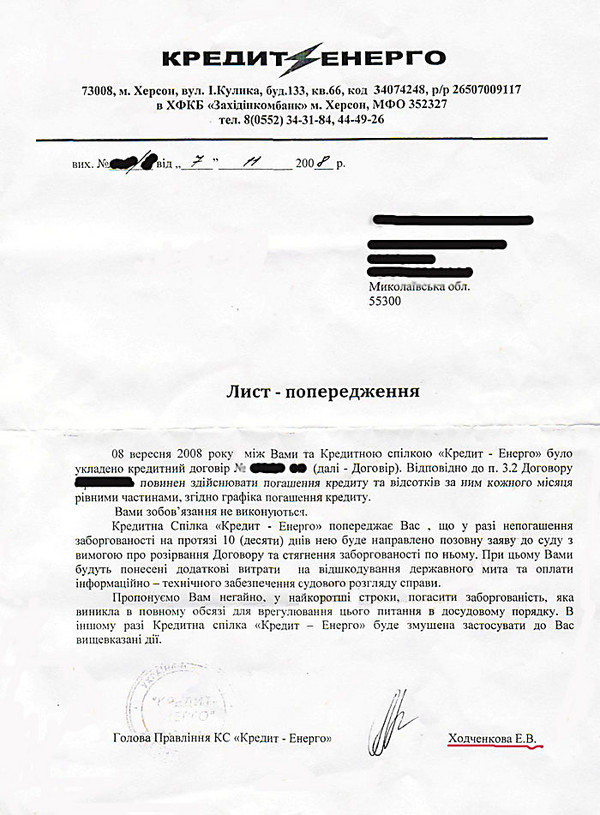 It seems, the commonplace, very popular now history - careless citizens took the credit, pay off on which they can't or don't want. However the piquancy of a situation was that any of debtors didn't know about a capture of the credit, the name of the credit union heard for the first time and, as a matter of fact, no means for repayment had - everything who have received similar notices, are students of 17-18 years.
Besides, they are trained in one educational institution and practically all live not in Nikolaev, and in the Nikolaev area.
These facts say that the people having access to private matters of students are involved in this credit fraud - differently as it is possible to explain that fact that the credit union obtained for contract registration passport details, an identification code and other necessary information.
"Crime. Is NOT PRESENT"tried to contact the head "the Credit - Power" Hodchenkova E.V. and to learn how the persons which haven't reached majority could enter into credit alliance. The head of Board "the Credit - Power" confirmed information that the described facts took place, however refused to give any comments. Instead it recommended to address to lawyers of credit society. Lawyers, in turn, also refused comments.
And here in the rayotedel of militia of Kherson where addressed"Crime. Is NOT PRESENT"searching though any information, we were told that on these facts criminal case is brought.
Whether the persons involved in this fraud will answer under the law, will show time. However this history once again illustrates common truth: it is necessary to be very careful, investing money in any doubtful enterprise. After all it isn't known where they will go, and therefore everyone, wishing quickly and with little effort to be enriched, having put money for the deposit in any credit community, can fall a victim of swindlers.