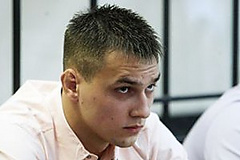 Vadim Titushko, Mikhail Pshuk and Sergey Prikhodko are found guilty of hooliganism and preventing of activity of journalists and sentenced to imprisonment conditionally
About it сообщилив to Prosecutor's office of the Shevchenkovsky district of Kiev, transfer «Comments»
Such decision was passed today by Shevchenkovsky regional court of the capital. The court approved as the same decision the agreement which was signed by injured journalists with three accused. The fourth defendant Andrey Yaroshenko refused to go for reconciliation with representatives of mass media.
- Three accused admitted the guilt in full volume and signed the agreement on reconciliation with the injured TV reporter and the press photographer. Under the terms of the contract during 3-x months the accused have to pay victims a full recovery of material and moral harm of about 36 thousand UAH, - reported in prosecutor's office.
In particular, accused have to pay Snitsarchuk - 707,20 hryvnias, and to Sodel - 1 613 hryvnias. Titushko will pay 11 thousand hryvnias of moral damage to victims, and this money will be taken from his pledge which it left to itself(himself). Accused Pshuk and Prikhodko will pay everyone 4 thousand hryvnias.
Also besides the monetary compensation, accused undertake to apologize publicly before victims through mass media.
Besides, three accused are found by a sentence of Shevchenkovsky court guilty of commission of offenses incriminated to them on h. 2 Art. 296 of UK of Ukraine - hooliganism, p.1 Art. 171 of UK of Ukraine - preventing of lawful professional activity of journalists of UK of Ukraine.
Also in prosecutor's office reported that to one of defendants (Titushko) the court appointed punishment in the form of 3 years of imprisonment with a trial period to 2 years, two another (Pshuk and Prikhodko) I awarded for 2 years of imprisonment with a trial period - 1,5 years.
Charge to the fourth defendant is allocated in the separate production which consideration will take place on September 13, 2013 in Shevchenkovsky regional court.
We will remind, Vadim Titushko it was detained On May 21 in the matter of about attack in the center of Kiev on the journalist of the 5th channel Olga Snitsarchuk and the photographer Vlad Sodel. Concerning it the criminal proceedings under article 171 UK (preventing by the journalist of activity) are opened. Titushko declared that the journalist didn't beat, and she fell. And on the future I advised to be engaged in self-defense. On May 22 Titushko it was let out on the security in 23 thousand hryvnias.