MBK "Nikolaev" - "Pulsar" - 84:76
Before game
In the biography of our clubs surprisingly there are a lot of analogies which occur, besides, almost synchronously. The first - persistent rivalry for the next places in standings literally since the first seasons after arrival of "Pulsar" to a superleague. The second - the compelled orientation to domestic shots. At last - the first essential replenishment of structure by legionaries.
And here we unexpectedly dispersed in approaches. Rovenchane invited basketball players to the leading roles in the team. By the way, as well as all the others in Ukraine and beyond its limits. And nikolayevets - it is rather, in a near reserve. First the place basically, shock, the five looked quite on Hlebovitski's shoulder. The winter piece of the championship and this assumption called into question. And Uilkinz's class, Montgomery, and also in the majority of matches didn't pull Blair even on maintenance of speed or the developed game balance.
The double impression was made by emergence in MBK "Nikolaev" of Jackson. It in "Chemist" proved the potential. And by right I became the coauthor of a victory over Donetsk "tigers", having hammered only 4 points last minute of a match. And here 22 points of the American legionary in Poltava didn't help nikolayevets even to apply for happy end.
And one more unpleasant divergence in consequences of personnel feed. Quite good, but not doing before weather homebrew playing ровенчан Shemosyuk considerably added in skill level against Ulyanko, Bryantsev, Dyatlovsky, etc. And some nikolayevets - even members of a national team, - opposite, not always remind themselves former. And Gilevich's hunting to change of places also doesn't add optimism to the Nikolaev fans.
Game
MBK "Nikolaev" - "Pulsar" - 84:76 (17:21, 21:22, 26:13, 20:20) On February 21, sport center "Hope" of 2000 viewers.
Productivity (points/minutes in game)
BLAIR
6
16
DYATLOVSKY
11
37
ONUFRIYEV
18
32
SHEMOSYUK
5
18
GLADYR
15
30
ULYANKO
23
35
HLEBOVITSKI
15
33
GERASIMCHUK
17
33
JACKSON
14
29
GUMENYUK
9
25
Rajevski
12
29
Zakhozhy
1
7
Yaylo
0
10
Dubnyuk
8
20
Silkovsky
4
18
Peel
0
9
Tonchenko
0
3
Ryabinin
2
16
Head coach Vladimir FIELDS
Head coach Mikhail Pereverzy
Accuracy of throws (threw/got)
2-point
38/22
34/15
3-point
21/4
27/11
Penalties
34/28
23/13
Selections (the шит / stranger)
23/9
27/12
Judges: B. Shulga (Kiev), E. Zaikin (Sumy), A. Kratko (Kharkov)
Commissioner B. Sosnovsky (Kiev)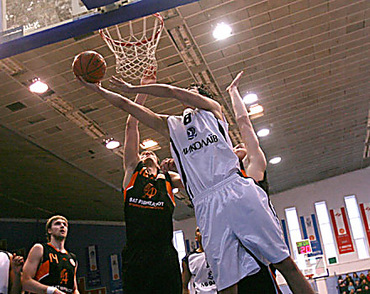 On pre-game warm-up players are warmed and last time check a sight. And if 3-4 throws in a row from different basketball players fly wide of the mark is a disturbing sign. Here when all balls get to a basket - yet the fact that in game it will turn out as it is successful. After all rivals will disturb.
Unfortunately, this supervision was true in very big degree. After Bleyr opened the account a throw from an average distance, further attempts of owners of a platform to attack brought success in very small proportion. But at ровенчан it turned out almost as on warm-up. And about hindrances from the Nikolaev protection - they almost weren't.
Ulyanko, Gerasimchuk and especially Dyatlovsky attacked from - for arches practically without resistance and - is exact.All four distant attempts of our basketball players in the first quarter were inexact. Well still, at Hlebovitski game under others board, and 10 points - to that the certificate went. Other points were on Blair's account and Gladyrya - 17:21.
Right after a break nikolayevets pass three balls in a row, and Vladimir Polyakh takes a time - a miss. Didn't help, on 4-й to minute guests moved 19:30! Onufriyev's efforts, Gladyrya and Jackson the worst outcome to the middle of a match managed to be avoided. Nevertheless and this period remained for guests - 38:43.
Frankly speaking, and warm-up after a big break looked "in advantage" ровенчан. However game as nikolayevets on the present rested in protection should have been resumed. Having broken the three of attacks of guests, owners of a platform felt more surely and under others board. Actually, Jackson there also wasn't torn - the purpose the throw from a platform corner reached him. And afterwards Rajevski and Onufriyev successfully attacked already from near approaches.
And again the disturbing time - a miss - now trainers of "Pulsar" - didn't help to change the course of game. Moreover, when Rajevski hammered the next ball from pass, the bench of guests obtained also a technical foul. And Onufriyev executed a sentence of arbitrators from the line of penalties.
Only on 4-й to minute of the period of Ulyanko threw the first ball of "Pulsar" after a big break. And Nikolaev "train" everything gathered a course. Gladyr, Rajevski, Onufriyev brought advantage of the team to two-digit values. It seemed, it was possible to sigh quietly. However the same Ulyanko last seconds hammered from - for arches with a foul and significantly lifted spirit of the partners - 64:56.
Final ten-minute began breakthrough of guests. Gladyr was I reflected their impact a well-aimed shot from - for arches. But Gumenyuk, Gerasimchuk and Ulyanko soon evened the score. It is curious that there was it again - on 4-й to minute of the period. Only Jackson again removed our team as Gladyr was mistaken in protection in leaders and received the fifth foul.
A minute later in the account guests moved already. Who will assume now responsibility for a throw? Jackson, Rajevski, Silkovsky "subscribed" for "plus 4". Rovenchane reduced lag to a minimum. But Hlebovitski's distant hit restored the status - кво.
On an outcome of the main time of a match game was entered by nerves. Center guests Gumenyuk doesn't throw 4 penalties in a row! And here Rajevski and Hlebovitski in the same number of attempts MBK "Nikolaev" bring 3 points.And the end to game tasty слэм - the tank was put by Onufriyev - 84:76.
After game
Despite a victory, the head coach of MBK "Nikolaev" Vladimir Polyakh on after match the press - conferences of the basketball players not only praised:
- Today at some players of MBK "Nikolaev" the same history, as in Poltava, and in Exactly repeated. I mean an insufficient spirit on game. In particular, there are claims to Gladyryu which picked up five fouls and not really well fulfilled in protection.
With Gilevich's flight to Odessa Vladimir Polyakh commented on a situation so:
- Why it left? First of all, it is a question to Gilevich. Perhaps the salary offered it in Odessa, played a role. I think, Gilevich consciously went on the conflict to a trainer's staff, knowing that in Odessa it already has a contract. But at us and without Gilevich is to a lump to play! I will note that at this basketball player the agreement is signed with MBK "Nikolaev" till 2011. We sent the notarized copy of this contract to FIBA. In UBL Ivan can though all life to play but if he wants to pass into the club acting under the auspices of FIBA, the contract with MBK "Nikolaev" has to emerge.
Head coach of "Pulsar" Mikhail Pereverzy:
- It was very important game. In case of a victory we would bypass nikolayevets in standings, but good luck was today on MBK "Nikolaev" party. Certainly, absence affected result in Bryantsev and Artimovich's our ranks who were unwell also. The children who have replaced them, couldn't strengthen game. Also I want to note that the judicial crew, in my opinion, didn't cope with service of this match.
Dzharius Jackson, MBK "Nikolaev":
I would like to thank fans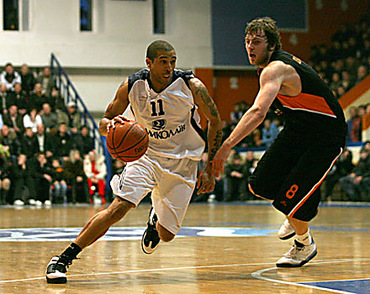 After MBK "Nikolaev" match - "Pulsar" the non-staff correspondent of "The Nikolaev news" Denis Raylyan took a flash - interview from players of both teams:
Michal Hlebovitski (MBK "Nikolaev"): "There was very heavy game. "Pulsar" was dangerous even without the two leading players, they showed today it.
In the first half we allowed rovenets to realize 8 three-point throws, but the second played much better, especially in protection. Missed the moment when order in account +13, and game could be won with big overweight"
Dzharius Jackson (MBK "Nikolaev"): "We came to a parquet with one thought to win as we combat the Rovno team for the highest place in the table and for the best rival in the ply - офф.I would like to thank fans for their fantastic support, it very much helps us".
Tayrell Blair (MBK "Nikolaev"): "We were very aggressive today, well worked in protection, in the beginning at ровенчан there was a good percent of hit, but after a break game at them разладилась, and we brought a match to a victory".
Victor Gerasimchuk ("Pulsar"): "Failed an ending of the second quarter, also badly executed penal throws and very poorly spent the third ten-minute. There was a chance to change a meeting course, but it wasn't succeeded to make it …. "
Pavel Ulyanko ("Pulsar"): "In an ending there was no stability, there were many chaotic moments. Bryantsev's absence, after all he - an important link in our team affected, its experience didn't suffice. I think, the main reason of our defeat should be looked for in the third quarter, ourselves gave an initiative, and then it was heavy to catch up".

Review of round
20-й round. On February 19
The chemist - BQ Kiev - 68:76
On February 21
Azovmash - BQ Donetsk - 69:60
BQ Poltava - Sumykhimprom - 92:69
MBK "Nikolaev" after a victory over "Pulsar" was fixed on the fifth place in standings and ensured let and small, but quite comfortable separation from persecutors. By the way, for "Sumykhimprom" defeat in Poltava became the eighth defeat in a row! Last time this team won the superleague championship on December 13. It is believed that to the sumchena will interrupt this black series not in the following match - with MBK "Nikolaev". Meanwhile, in a duel with BQ "Poltava" ex-nikolayevets Evgeny Podorvany in 18 minutes on a platform was marked out by two tryulnik.
>
And is in the lead on - to former BQ "Kiev" which on the eve of a match with "Chemist" left at once six legionaries. At will of the management of the club dissatisfied with results of "wolves" in Euro cups, the team was left by Bayramovich, Takker, Penn, Wright, Eretin and Stanoyevich! However, Drozdov, Markoishvili, Saltovets and Kravtsov strengthened by yesterday's doublers, without special problems changed "Chemist" in Youzhny. And, not the last role in a victory of BQ "Kiev" was played by the young Lukashov who has typed 13 points.
In a back to "wolves" "Azovmash" breathes. In a match with BQ "Donetsk" Ale - Amin and Lishchuk outlined for two 39 points, having brought the main contribution in a difficult victory. I surprised result of the second quarter lost by "Azovmash" with the account... 6:18!
BQ "Kiev" and "Azovmash" will meet face to face on the next Saturday.Whether young "wolf cubs" against experienced Mariupol "wolfhounds" will stand?
| | | | | | | |
| --- | --- | --- | --- | --- | --- | --- |
| | | And | In | П | Р / about | About |
| 1 | BQ OF CUES | 20 | 18 | 2 | 1697:1414 | 38 |
| 2 | AZOVMASH | 20 | 17 | 3 | 1715:1429 | 37 |
| 3 | CHEMIST | 20 | 11 | 9 | 1546:1590 | 31 |
| 4 | BQ DONETSK | 19 | 11 | 8 | 1563:1466 | 30 |
| 5 | MBK NIKOLAEV | 20 | 7 | 13 | 1489:1700 | 27 |
| 6 | PULSAR | 20 | 5 | 15 | 1517:1638 | 25 |
| 7 | BQ POLTAVA | 20 | 5 | 15 | 1567:1679 | 25 |
| 8 | SUMYKHIMPROM | 19 | 5 | 14 | 1462:1640 | 24 |

21-й round. On February 28
BQ Kiev - Azovmash
BQ Donetsk - Chemist
Sumykhimprom - MBK Nikolaev
Pulsar - BQ Poltava
On March 3
Sumykhimprom - BQ Donetsk (the transferred match of the second circle)