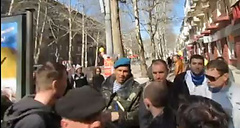 In Nikolaev пророссийски Putin's adjusted supporters attacked activists of Democratic Alliance that those refused to remove Xing - a yellow ribbon.
About it «Crime. Is NOT PRESENT» the Nikolaev Demalyans's head Evgenia Mateychuk reported.
According to her, Putin's supporters with shouts «Banderovites» , «Fascists» snatched on them when saw Xing - yellow ribbons.
- We were today on Soviet in cafe, left, and nearby passed their procession. We silently stood on the sidewalk. They paid attention that at us Xing - yellow ribbons and started attacking us with obscene abuse, demanded them to remove. Anton Mironenko shot with phone. The elderly man approached to it and simply selected phone. He started demanding that phone to it returned, instead the crowd from 30 people snatched on it and practically began to beat him. Anton for self-defense used a gas spray. After that the militia interfered. Anton and Sasha Yantsen took away in militia, - I told Mateychuk.
Activists carried to regional department, there, according to Evgenia, two пророссийски the adjusted men who were in the fight center approached also.
- They still accused me that I stole from them phone. The pier, at it dropped out, and I picked up it, - told Mateychuk.
- The only message which people, it that we «shoutedBanderovites» , «fascists» , started speaking as with us it is necessary to finish. Any arguments, that we live in Nikolaev, from us nobody wanted to listen. Two men, by the way, were Ochakov, - she added.
As told «Crime. Is NOT PRESENT» Anton Mironenko, he wrote the application in militia upon attack on it and theft of its mobile phone, and also for defilement of the Ukrainian symbolics which at it tried to break «antimaydanovets».
It should be added also that earlier on the same day activists assigned flowers to a monument to Heroes - olshanets. «Antimaydanovtsa» with the Russian flags shouted to them following «Shame» , «Fascists».
Video: korabelov.info