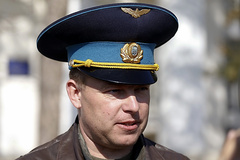 The Ministry of Defence of Ukraine has information about six Ukrainian captured.
The deputy minister of defense of Ukraine Leonid Polyakov reported about it during a briefing, transfers UNN.
According to Polyakov, it is five officers and one general. Information on their location while aren't present.
- The same and concerning Mamchur, - was reported by Polyakov.
- There is certain information on their captivity, however it such is that has no right for scoring for certain reasons, - he added.
We will remind that On March 22 Russian military, having rammed gate on the armored personnel carrier and using the weapon, seized military unit near airfield «Belbek». I was the commander of part is kidnapped Yuli Mamchur.
Acting president of Ukraine, speaker of BP Oleksandr Turchynov I demanded to release Mamchur and to stop provocations from Armed forces of Russia.
At the same time it became known that on March 23 in the morning in the Crimea detained the deputy commander Voyenno - naval forces VS of Ukraine on coastal defense - the head of department of armies of coastal defense the general - the major Igor Voronchenko.