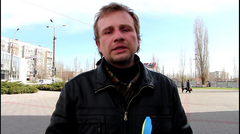 On Sunday, April 6, in Nikolaev near sport center "Hope" separatists beat the activist Maydan.
About it in the comment "Crime. Is NOT PRESENT" the friend of the victim Vladimir Podnebesny told.
He told that his acquaintance ran out to a column of cars with the Russian flags which left people with St.George's Ribbons and started it beating.
- Sasha - my acquaintance, we met on meeting as we support uniform Ukraine. Sasha reported that he - a mobilizer, and it in a national militia. About it we decided to sit down to drink on a glass of beer. At any moment Sasha ran out, having seen a motorcade of cars. This motorcade had the Ukrainian and Russian flags. Having left for Sasha, I saw how this motorcade stopped, and it left people and began to beat him. They shouted that it broke them glass that it "bender", "swine", "fascist" and that such as it, it is necessary to kill. In it splashed a barrel, in me too splashed a barrel. I ran out on the road and stopped passing GAI, and they caused militia. I can't claim, Sasha in the broken glass is guilty or not, - told Celestial.
Besides, Vladimir reported that separatists threatened his friend "to put in a luggage carrier and to take out to the country".
- It was 5-6 cars, specifically Sasha dragged around six - seven people. Two he dragged for a collar and shouted: "We will put you in the car and we will take away to the country". Others on roads beat him, one person splashed in a face a barrel, - Podnebessny specified.
The friend of the victim also told that Alexander as a result of blows was traumatized the heads and Avtomaydan brought it to hospital.
- Sasha called Avtomaydan, but they arrived when already there was a militia. Actually Avtomaydan couldn't beat off Sasha, him there could kill simply. The automaidan arrived and brought it to hospital. It injured the head (on a nape - PN), is also broken a nose and the forehead is injured, and at it the person swelled up from gas. For certain it has any bruises on a body, can even changes. I am not a doctor, I can't tell. From it why - that was removed by sneakers and the man still beat him on heels, - told Celestial.
The eyewitness also told that his friend now is in BSMP. Also Vladimir told that police officers opened criminal case under the article "Hooliganism", and he will pass as the witness.
It should be noted that the police officers who have arrived on a call refused to give any comments to the journalist and forbade themselves to photograph and to write down on video. Then at once got into the official car and left.
Also we will note that as a result of incident nobody is detained. Separatists simply continued the motor rally.
We will remind, on March 23 in Nikolaev пророссийски Putin's adjusted supporters attacked activists of Democratic Alliance for that those refused to remove Xing - a yellow ribbon.
We will remind, on February 25, in Nikolaev the pro-Russian separatists crushed the trolleybus, plying on a route No. 7. On February 20 "defenders YEAH "crushed sticks and fittings windows and a door of office of the Nikolaev regional organization of UDAR party on Moskovskaya Street. We will note that for resonant events in Nikolaev nobody is detained.