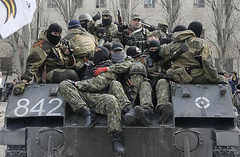 On Wednesday, April 16 in the north of Donetsk region the Russian armies together with locals took the Ukrainian armored machinery. The part of the Ukrainian military nevertheless could break through a cordon, having frightened locals of the grenade. In the Donetsk unknown in masks and with the weapon seized the building of city council.
In the seized City Council of Mariupol are noticed «green little men» , and in Krasnoarmeysk the militia without resistance handed over city department to separatists.
«Crime. Is NOT PRESENT» brings to your attention chronology of events which occurred in Donetsk region on April 16.
18:55In Krasnoarmeysk separatists hung out on the building of city department militias flag «Donetsk national republic». About 100-150 people came to the city department building, thus chanting «Militia with the people!».
17:50In Kramatorsk of colon of the Ukrainian equipment from four BMD I escaped from blockade of the pro-Russian forces. People who блогировали military, were let in a pursuit on six cars and ATVs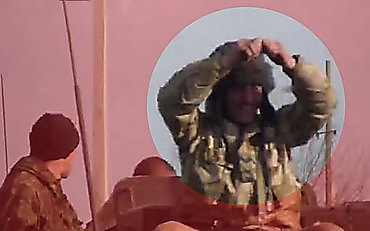 17:34In the seized Mariupol City Council were are noticed «green little men» . Young guys walked in masks and a camouflage on the territory at the city hall building, also were in its room and on a roof.
16:06 The Ministry of Defence recognized that in Kramatorsk the Russian armies took 6 units of armored machinery.
13:50In Krasnotorke (the settlement, is subordinated to Kramatorsk) locals blocked about 15 Ukrainian fighting vehicles of a landing. Events occur around a railway crossing «Pchelkino». Military drive away locals, throwing thunder flashes.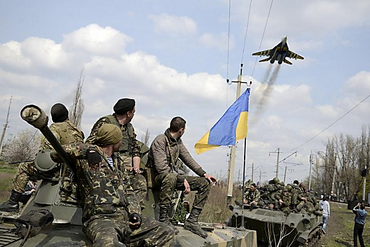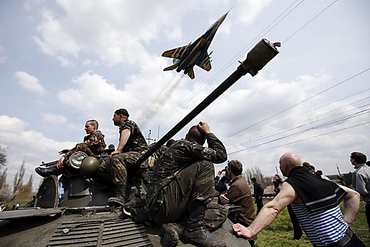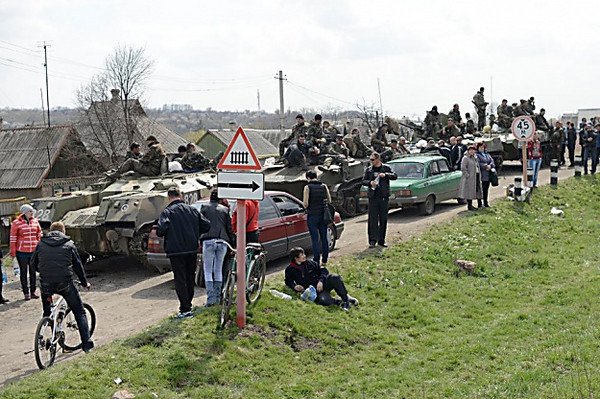 13:30Separatists blocked the railroad on a site Kramatorsk - Druzhkovka in Donetsk region.
13:01Later on the Internet there was video, as in Kramatorsk separatists took the Ukrainian armored machinery also hoisted over it the Russian colors.
11:40The Ukrainian armored machinery captured by supporters of Russia in Kramatorsk, I arrived to Slavyansk. To 10 units of the Ukrainian military equipment, including six fighting landing vehicles, according to local mass media, were captured in the morning on Wednesday.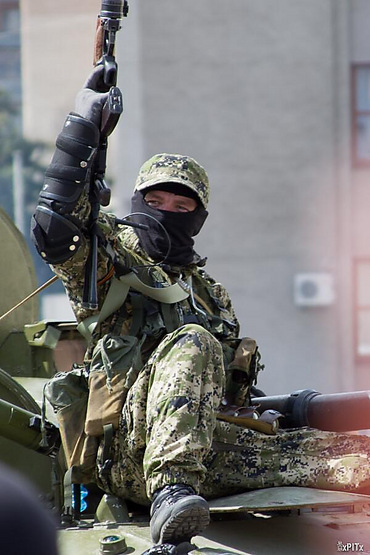 11:04 In Donetsk city council more than 20 people came in masks and with the weapon. Aggressors call themselves «Stronghold».
10:51To Kramatorsk from Donetsk drove approximately 10 units of military equipment. On armored machinery which direct «green little men» the Russian flags are placed.
09:39Inhabitants Kramatorsk blocked movement Ukrainian military equipment.
09:32Ministry of Internal Affairs of Ukraine published video with details of the anti-terrorist operation performed on Tuesday, April 15, in Kramatorsk.