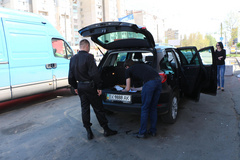 On Wednesday, April 23, in Nikolaev on a post in the residential district the Salt staff of GAI together with a national militia detained the car which in a luggage carrier transported a machete and bit.
So, car «Volkswagen Tiguan» with Khmelnytsky numbers the staff of GAI stopped on a post. As a result of check machetes and a bat were found in a luggage carrier of the car. To a scene there arrived a police squad which made the protocol and withdrew the found things.
The owner of the car, in turn, claims that it went to Nikolaev from Yuzhnoukraiinsk, and the subjects—found in a luggage carrier these are souvenirs which it got in Bukovel.
We will remind, earlier it was reported that fighters «National militia» together with militiamen found and withdrew on posts on entries into Nikolaev ten units of the fighting and traumatic weapon also detained several people.