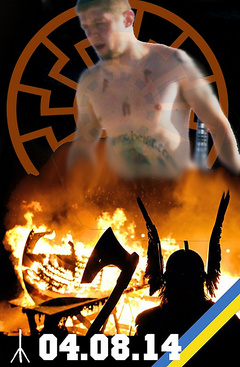 On Monday, August 4, during fights for Marinka Donetsk region the participant of movement of the Nikolaev ultras (movement of football fans, - PN) who consisted in the ranks of a voluntary battalion «was lostAzov».
About it it is reported on the page of the Nikolaev ultras «9-й sector» on a social network of VKontakte.
It is known that integrated forces of voluntary battalions «Shakhtersk» and «Azov» with VSU supporttook under control the settlement of Marinka and suburbs of Donetsk.
«Today during liberation of Marinka in the ranks of a battalion «Azov» our guy whom you knew under the nickname Buffoonery was lost. It was lost with is proud of the raised head, for the Ukrainian earth, exempting it from invaders, it was lost for freedom of the Ukrainian people! I was lost as itself I wanted - up in arms! Eternal memory to you the colleague, you will become history as the liberator of Ukraine! «Dead to shame not имут!» - it is spoken in the message.
The head of the Nikolaev regional party cell IN «Freedom» Demid Gubsky on the page in Facebook also reported about death of the activist of the Nikolaev ultras.
«At liberation of Marinka the fighter of the Nikolaev movement of ultras was lost. Muscovite. NOT Russian–the Russian, than always was proud. The house because had no was at war not for the. Not for native, because in Russia. For us I was at war and for the truth. They protected the Nikolaev Maidan, now perish for our earth, for our quiet dream. Eternal memory to You» , - Gubsky wrote.