Yesterday, on April 1, around 7:00 in quickly - dispatching service "101" from the market "Kolos" on duty located in Nikolaev on Mira Avenue, the message arrived that in one of trade pavilions of the market there was a fire. About it reports the Center of promotion of GUMChS in the Nikolaev area.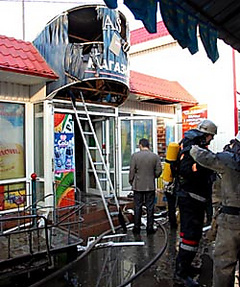 To a place of a call patrols of fire brigades No. 2 on duty and No. 3 of the city of Nikolaev were directed. At the time of arrival of rescuers by a flame all roof was captured. Liquidated a fire as fast as possible to prevent fire distribution on the next booths. About twenty minutes it was required to rescuers to cope with fire.
The fire area made ten square meters. Losses from a fire still are established.
On preliminary conclusions of experts, the fire arose from - for short circuit of an electrical wiring.