State traffic inspectorateNikolaevareas I invited journalists "to spot" how marshrutchik violate traffic regulations.
The correspondent "Prestupnosti.Net" together with the senior inspector of sector avtomobilno - technical inspection of GAI by Vadim Savchenko as ordinary passengers sat down in a minibus No. 43 on crossing of streets Moscow and Chigrina. Behind the chosen minibus (white "Ford") gray "Volga" in which there were the inspectors of GAI removing all events on a video camera followed.
The minibus started. It is necessary to pay tribute to the driver - while went, passengers forgot to ask in time about a stop twice, but he managed and governed not to break, and to land people in the right place.
But already at a stop "5-I Slobodskaya" white "Ford" stopped at the crosswalk where landed people. Turn on Oktyabrsky Avenue - while everything is quiet. Further - Kosmonavtov St. And here fell down one violation behind another. The driver stopped at the crosswalk with the traffic light at three stops in a row - "Dawn", "Space" and "Engels". In all three cases the minibus stopped to land and take away passengers.
At a penultimate stop all passengers left the car. The inspector of GAI approached to the driver, it was presented and asked documents. Gray "Volga" with a video camera approached also. When the inspector started listing that when and as the driver broke, that at first agreed. In few minutes to the place of profit the foreman of a route and support group in the person of other marshrutchik. And the driver of white "Ford" started denying all violations. His main argument was there was no place what more to stop.
- I am not guilty, - the driver told. - Let the executive committee equip stops, and violations won't be.
Inspectors showed to the driver operational video and made the protocol. In the protocol pointed only one violation - to Chigrin St. - it is most distinctly traced on video. The driver in the protocol specified that with the brought charges doesn't agree. In the receipt on payment of penalties the sum - 300 hryvnias is specified.
The gathered drivers categorically didn't agree with GAI actions.They remembered that a week ago the deputy chief of the Department of Internal Affairs of area Artur Voitenko promised them that the hidden control of marshrutchik won't be.
In a press - service GAI emphasized that such control is carried out regularly and will be carried out and from now on.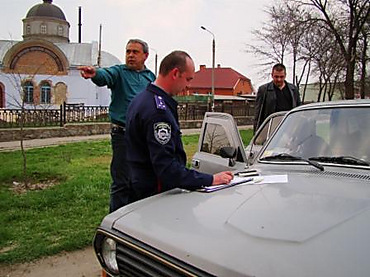 The driver (shows a hand) doesn't agree with charges of GAI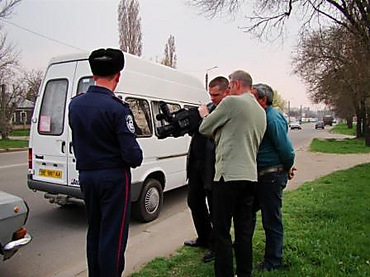 The inspector in the civil shows to the driver and the foreman of a route operational video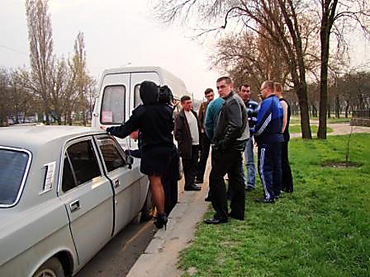 Came to support the colleague five drivers. They too were revolted with charges from inspectors