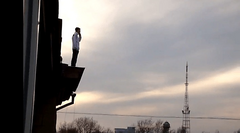 In Nikolaev in the evening on Thursday, April 16, the young man standing on a roof of the five-floor house on crossing of Dekabristov Street and Lenin Avenue attracted attention passersby who took it for the suicide.
About it «Crime. Is NOT PRESENT» eyewitnesses reported. According to them, the guy on the edge of a roof spoke by the mobile phone. However, later he went down.
In Nikolaevsk a municipal government of militia information on this incident was confirmed. Into place I went police officers. At the moment law enforcement authorities find out, whether there was it suicide attempt.
Later, in a public in a social network Facebook Nik.ua - the city of Nikolaev reported that the guy tried to commit suicide from - for one-way love.
"Incident happened in the house at the intersection of Lenin Avenue and Dekabristov St. The young guy by the name of Anton got out on a roof and wanted will be dumped down really on the bus-stop. From a roof it was removed by militiamen and psychologists of GSChS. Anton was brought to regional department of militia. As it was succeeded to learn from the guy's friends - the reason of a sensation I became quarrel with the girlfriend. Both the guy and his friends were well tipsy", - administrators of a public note.
All photos - Nik.ua - the city of Nikolaev.
We will remind, in February of this year near a multystoried house No. 171 on Lenin Avenue after explosion found the blood-stained corpse of the guy. And on a body of the dead there were traces from falling from height. On the rooftop, the dead from where could drop out, found a funnel which could be formed as a result of explosion. About a funnel splinters are found, and the iron peak of a roof was excised also all in holes. Besides, about a place of explosion it is found the pin from the grenade.