On June 19 took place indicative pozharno - tactical maneuvers in "Zhovtnevy central regional hospital". About it reports the Center of promotion of GU Ministry of Emergency Situations of Ukraine in the Nikolaev area.
Staff of the Ministry of Emergency Situations fulfilled the operating plan of fire extinguishing, interaction with administration of object and with services of the city on duty, and also action of members of a fire brigade of object when receiving a signal of a fire.
This time, on a legend, rescuers had to liquidate ignition in office on 3 - m a floor.
At first on an alarm signal the personnel of a fire brigade No. 8 on protection of the Ship district of the city of Nikolaev, then almost all free fighting calculations pozharno - saving divisions of the city was lifted. According to a legend of doctrines, the hospital personnel before arrival of rescuers evacuated 39 patients from the third floor, disconnected all rooms and took measures for suppression of the center of ignition by primary fire extinguishing means.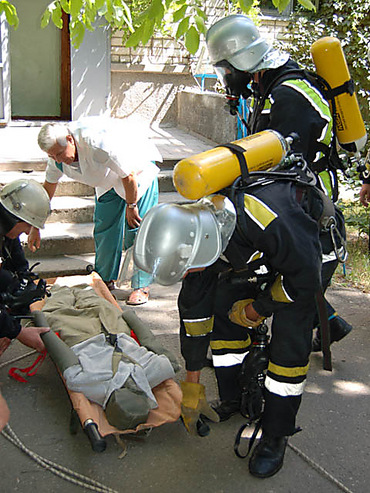 Not to allow emergency situations and failures in the work, similar pozharno - saving large-scale doctrines are carried out annually. During training operation with attraction of specialized equipment representatives of the Ministry of Emergency Situations in practice fulfilled interaction on evacuations of patients, a special equipment entrance to the building, operability of fire hydrants. After doctrines summed up the training results. Also pointed to physicians to defects in the organization of ensuring fire safety of hospital.