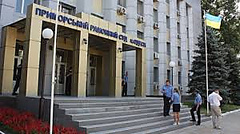 In Primorsk district court of Odessa passes consideration of two criminal proceedings opened in the relation of the pro-Ukrainian activists - leader Odessa «Automaidan» Evgenia Rezvushkina and leader of Odessa "Right Sector" Sergey Sternenko.
Supporters Rezvushkina and Sternenko on social networks report about it.
So, today, on September 8, in Primorsk court have to choose measures of restraint at once for several activists Odessa «Euromaidan». Leader «Automaidan» Evgeny Rezvushkin is accused in attack on the employee of prosecutor's office, and head Odessa «Right Sector» Sergey Sternenko and several activists of the organization— in robbery in the Kominternovsky area.
To district court there arrived representatives of many pro-Ukrainian public organizations, however activists of the Right Sector organization at the moment aren't present.
In a courtyard of court there is a little armored Krazov, about 10 buses with militiamen, and also buses with boards. On all floors of Seaside court fighters settled down National guard.
We will emphasize that court session had to begin at 16:00, however for the unknown reasons it is late.
We will remind that today, On September 8, law enforcement officers arrived to the place of residence of the head of the Odessa regional organization of political party "Right Sector" to Sergey Sternenko for carrying out searches.
Also we will remind that the prosecutor's office doesn't want to declare suspicion to the leader Nikolaev «Right Sector» , poured brilliant green of the chief of seaport.