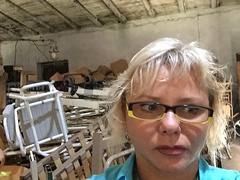 Volunteers from the Netherlands who regularly send humanitarian aid to Ukraine, are extremely revolted with the Nikolaev regional charity foundation «The planet is kind» , which volunteered to accept freight, however didn't satisfy conditions on its appropriate acceptance, storage, distribution and didn't provide the report.
About it there is a speech in the open letter of the founder of fund «UKRAINE TODAY» Syuzanna Dostaleva and Bob Vaud to the People's Deputy of Ukraine from Nikolayevshchina Boris Kozyr who has a direct bearing on this fund.
«Funds in the Netherlands of Stichting ANBI UKRAINE TODAY and Stichting Platform Nederland - Oekraine, tell you that acceptance, storage and distribution of our freight by your fund «The planet Is kind» it is carried out barbarous. Besides: preliminary arrangements aren't carried out: any of in advance discussed demands isn't executed; our freight is placed in the terrifying conditions, in this connection part of freight (for example, the red game room sofas which are personally packed by the principal which is one of leaders of European Parliament, are already destroyed by your fund); also, possibly, the operational lamp which with some purposes was taken out from a factory packing is destroyed and today settles down in a cardboard moreover and with the wooden pallet which fell to it» , - it is told in the letter to the people's deputy which is available on hand «Crime. Is NOT PRESENT».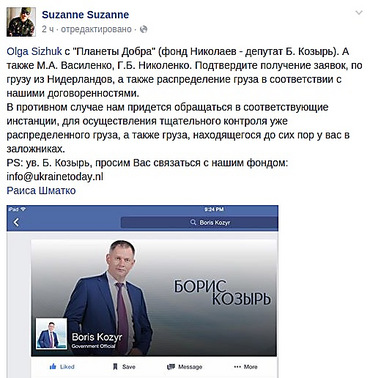 Volunteers paid attention that despite arrangements, sportswear didn't come to heroes of anti-terrorist operation to the rehabilitation center, and was transferred to athletes in Nikolaev.
At the same time, activists are revolted with incompetence and rough behavior of the representative of the Nikolaev fund Olga Sizhuk.
«Without knowing you personally (without regard to all my efforts to talk to you), we are sure that communication of your representative of such level, won't improve your reputation, and also reputation of your fund.I ask to respect our preliminary arrangements, at least considering that fact that we entrusted you the freight, managed to save for you 900 euros for car costs, attracted large partners from France which freight now also is in hostages at Olga Sizhuk. With gratitude we wait for your reaction in the shortest possible time» , - volunteers note.
We will note that the head of board of fund «The planet Is kind» is former «regional» , deputy of the Nikolaev regional council Yury Chekantsev. Also also others have relation to this fund former high-ranking «regionals» - ex-the head of organization department of the Nikolaev RSA Mikhail Vasilenko and ex-vice-the governor at Nikolay Kruglov Gennady Nikolenko. Both of them now are assistants to the people's deputy from BPP Boris Kozyr.