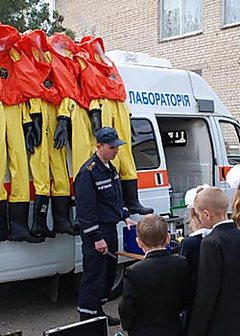 This week the Nikolaev rescuers received certification on the new car - the mobile chemist - radiological laboratory on the car chassis the Gazelle.
Receiving certification, gives the chance to use means of this laboratory not only for work of divisions of the Ministry of Emergency Situations (it it is possible to do and without certification), and and for granting to natural and legal entities of certain services with issue of the relevant documents.
Range of use of this car the widest, namely:
Radiation and radiometric control in rooms, on the land plots, on various surfaces and materials. So-called gamma shooting of territories.
Spectrometer researches, definition of radio nuclide structure practically any materials. Besides, definition of composition of air or other gas environment on the maintenance of different pollutants, mercury, ammonia, hydrogen sulfide, dioxide of sulfur, oxide of nitrogen, chlorine, acetone, benzene, hydrocarbons of oil, toluene, carbon monoxide, the dovzryvoopasnykh of concentration of combustible gases and vapors (their set), and also a volume fraction of oxygen in air. At detection of mercury pollution, service on a demerkurization is possible. But also it not everything, the mobile laboratory is capable to carry out water analyses on existence more than 20-you elements and acidity, that is almost all list of "impurity".
Except application during elimination of consequences of various emergency situations, the office on it cars can provide to citizens, natural and legal entities full range of services by definition of radiation and chemical indicators.
The decision concerning creation of the mobile division, capable to provide above the listed services, arose not incidentally, monthly to head department Ministry of Emergency Situations of Ukraine in the Nikolaev area addresses from inhabitants of area, heads of the enterprises for an occasion of determination of impurity drinking arrive, sewage, level of radiation of scrap metal or other "suspicious" subjects, and there is a lot of another.