In one of private houses microdistrict. A wide Beam Roma actively and almost openly were engaged in drug trafficking.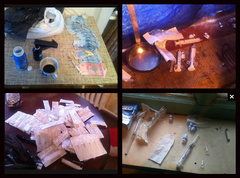 In one of private houses of the residential district the Wide Beam in the city of Nikolaev Roma actively and almost openly distribute drugs and contain a brothel. Repeatedly submitted applications for the dealer of a brothel and even opened criminal proceedings, however she still on freedom also continues to develop the drug trafficking successfully. According to residents of this area, Roma in conversation with them don't hide that considerable money pays law enforcement authorities for the inviolability. From their words, have money to buy still any Nikolaev judge and the prosecutor.
Seeing inaction of law enforcement authorities, deputies and officials, locals with this problem asked for the help us, in the trade-union organization "Strong Together", and we in turn addressed to the chief police officer of Nikolayevshchina Vitaly Goncharov. So far Goncharov on «Last Suppers» I developed the plan of elimination of dissidents of public men and journalists, employees 8-го managements of department on fight against narcocrime joined in process of liquidation of shooting gallery. In our city wasn't for anybody a secret that Roma trade many years in drugs in the Wide Beam. It appears all knew about it, except the chief of the Nikolaev police Vitaly Goncharov.
The shooting gallery functioned in the private house down the street of Innovators, 5. The inhabitant of Nikolaev, leases the house to the Gipsy, the addict with an experience, known in a circle of narcobusinessmen under the nickname of "Lyalya". During telephone conversation, the Gipsy calls the hostess of the house–Nadechka, the godmother. It is visible thirst of money, I won against common sense. And despite that lawlessness which happens at it in the house, the hostess continues to lease regularly the house to Roma.
At any time in this house it was possible to buy drugs. The wide Beam became a haven for «torchok» from all districts of our city. In search of a dose they ransack on streets and when there is no money for a dose, trade in theft, robing locals.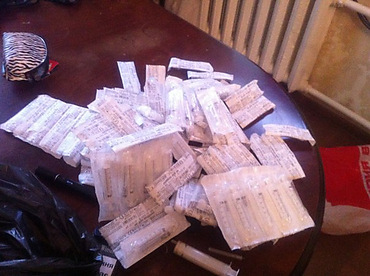 Law enforcement authorities of new division of fight against narcocrime, this shooting gallery took storm. Roma well adjusted safe trade in drugs:the house was surrounded 4-мя with cameras of video of supervision, the fence was filled up with beaten glass, and in the yard the combative dog patrolled. At sudden appearance of field investigators Roma tried to get rid of drug, but it wasn't possible. Some of the present detained addicts at themselves had knives, similar to a cold weapon. The brothel is quite popular, all in an hour of time while the search was carried out, there were about 30 potential buyers of drugs.
During the authorized search, in a household narcomeans were revealed and withdrawn: opium (breadth), anhydride and disposable medical syringes of different volumes. All present addicts were detained and brought to office of police for the purpose of carrying out survey and further investigative actions.
In spite of the fact thatthousands of lives it is ruined by drugs, extended by Roma, the Gipsy clans successfully continue the criminal business under cover of selling law enforcement authorities and judges.
Also it is not the only address to which Roma thanks to communications in power are engaged in narcosale in this residential district. It is one of…
We will hope that judges and prosecutors will quicker write out permissions to searches and detentions of drug dealers, and will cease to drag out documentary process, and also will stop earning on blood and a grief of people.