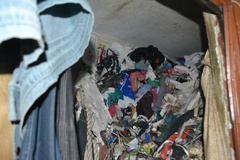 On Tuesday, February 9, in Nikolaev, in the house No. 26A on Oktyabrsky Avenue there was an ignition–in one of apartments the garbage which her owner - the pensioner stored more than five years started smoldering.
The scene was visited by the correspondent «Crime. Is NOT PRESENT».
So, the woman from this house who lives the apartment below, saw a smoke from windows and called firefighters. On arrival on a scene rescuers removed an iron door to the apartment and extinguished the ignition center. It appeared that mountains of garbage which started smoldering became a cause of the fire.
As told residents of the house, the 67-summer pensioner who within five years is diligent accumulating different garbage at himself in the four-room apartment lives in this apartment. Finally the dwelling appeared the filled-up garbage. Also neighbors told that the pensioner, the hostess of the apartment whom the man looked after lives in the apartment.
Also residents complained that this situation lasts more than five years, but so not who didn't undertake its decision. The staff of ZhEK in turn noted that to the pensioner already issued more than five instructions about carrying out of garbage from the apartment, but to any reaction from it didn't follow. The physicians who arrived on a call took away the pensioner in hospital for survey on sanity. Employees of ZhEK began to rake garbage blockages in the apartment, and intend to reach the pensioner who is still blocked inside. Housing and communal services want to make sure, the woman is living or not.
We will remind, in 2013 in Nikolaev from - for the old man collecting stuff in the apartment, nearly the high-rise building burned down.