Hunting for pedestrians in Nikolaev was started by the Center for GAI public relations which invited on August 5 journalists to participate in raid - catching of violators who cross the road in not put place. It is necessary to tell, raid was very amusing.
We chose the most "broken" place - Lenin Avenue near the Central market. Became in ten meters from a subway on the one hand and the usual crosswalk meters in 50 from us. Some cameras "stared" at the carriageway. Nearby there was an inspector of traffic police lance sergeant Alexey Lavrik and the employee the Center for GAI public relations Natalya Ustimenko - it is natural, in shape.
It would seem, it simply is necessary to notice this company. Nevertheless, didn't pass also two minutes as before us grandmothers with bags and old grandfathers began to be carried by, to jump over bravo through a protection, violating thereby traffic regulations, and further to ply on the route.
It appeared what to hide and watch "the gaishnykh of victims" at all there was no need - violators in an emphasis didn't see cameras and allowed journalists to remove quite good "picture".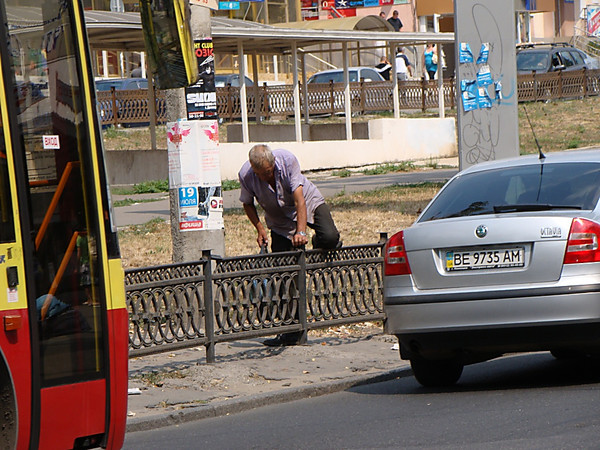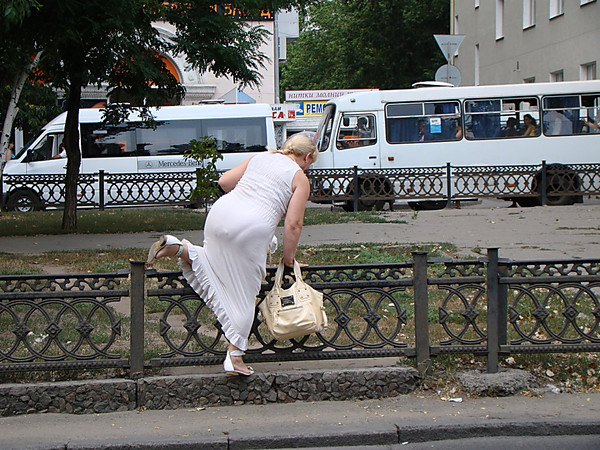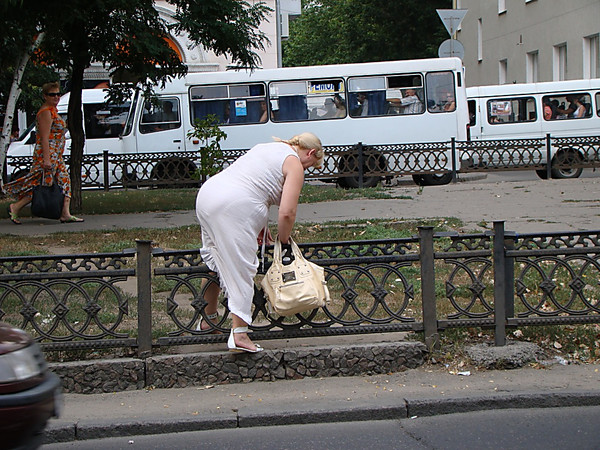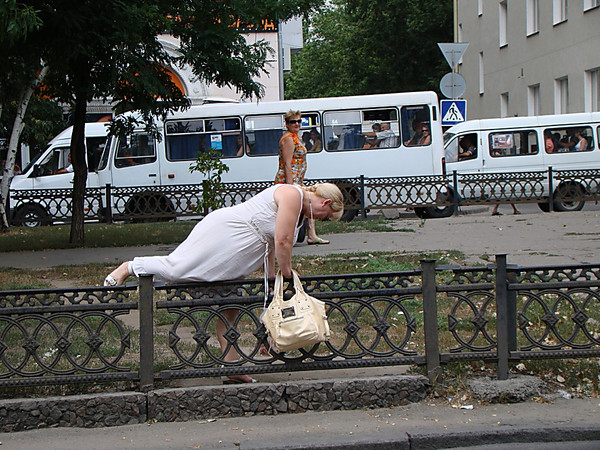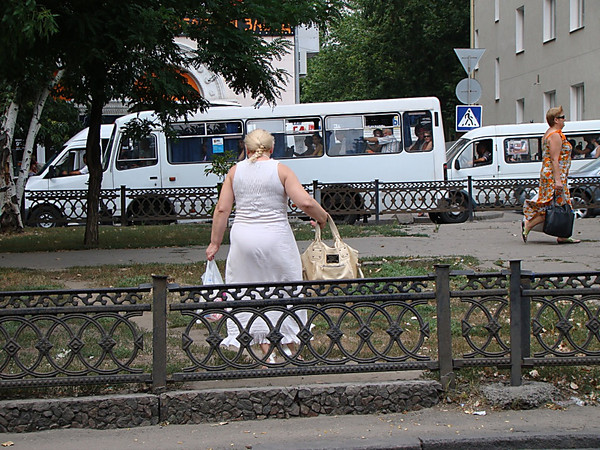 Time to the inspector came to show, on what the road service is capable. Having waited the grandfather who stole a march simply to it towards, the lance sergeant tried to stop the violator. But that, at all without having reduced speed, it was carried by by. The old man didn't try to hide and run all over at all the inspector other road - it was "stupidly" carried by by as though no militiaman and existed on his way.
Having considered that it is senseless to catch up with the old man, we continued to watch pedestrians.
It is necessary to tell that noticed journalists and GAI only one person - the man closely approached to a fence, stood, got accustomed, and decided to pretend that it law-abiding - left back.
The following the young man got through a fencing. He too didn't notice a lot of cameras and two GAI officers. Alexey Lavrik stopped it and began explanatory conversation. In the beginning the young man was nervous and even shouted to us: "Remove the camera", but then quite lovely I talked to journalists, and I answered all questions.
- What is your name?
- Pavel.
- You will pay a penalty for traffic violation of the rules?
- I will pay if here hang up a sign - a strelochka that transition is near, and that here it is impossible to cross the road.
- Look to the right, over there at a subway sign.
- And I don't see on such distances, I blind.
- And you too can't read the Traffic regulation?
- No, I can't, I don't understand - the fool.
- You drive the car?
- Yes.
- When at a wheel, too you break?
- Well as … As driver I in principle the law-abiding.
- And how pedestrian?
- In principle, and as pedestrian too.
- You often cross the road in this place?
- Yes, I here go every day. I work here, nearby. It is convenient to me to pass here.
- Before you were stopped sometime by the inspector when you in not put place crossed the road?
- No, it is the first time.
- Some "shots" escaped from the inspector. You why didn't escape?
- Why I have to run away? I am not afraid, I law-abiding.
Pavel stood near us and the inspector of minutes 15. At first he said that at him isn't present at itself documents. And without documents the inspector can't make the protocol. Then Pavel told the inspector:
- I hurry, people with meat wait for me. Give you will approach to them, they will tell you who I am that I.
- Official data are necessary to us, - Natalya Ustimenko told.
- No, official data now aren't present.
Women, Pavel's acquaintances, approached to us. The market began. Ladies with voices raised tried to explain to the inspector that it is impossible to detain Pavel.
When the inspector told that if there are no documents, it is necessary to carry Pavel to regional department, it became not less interesting.
- And I won't go to regional department, - Pavel told.
- You are obliged to carry with yourselves documents, - militiamen insisted.
- Anything I am not obliged.
- Pavel, and what to you prevents to leave right now? - I ask.
- Police officer. I understand that it won't catch up with me, I am an athlete. But I law-abiding, I can't leave.
While "market" proceeded, through a fencing one more grandfather got. At what it was visible that it moves hardly. Nevertheless, the fencing on Lenin Avenue an obstacle for it didn't appear. Journalists surrounded the grandfather who was stopped already by the inspector.
While all were keen on "the new victim", Pavel "was washed away".
At this time the inspector asked documents the grandfather.
- I with itself don't have anything.
- Why you got through a fencing? Really for you it is simpler, than to pass on transition?
- There to pass, I don't have enough forces. And to get through a fence forces suffice to me - the foot rose, and all.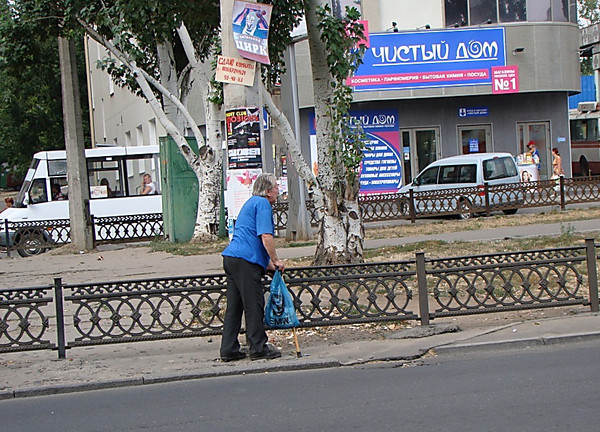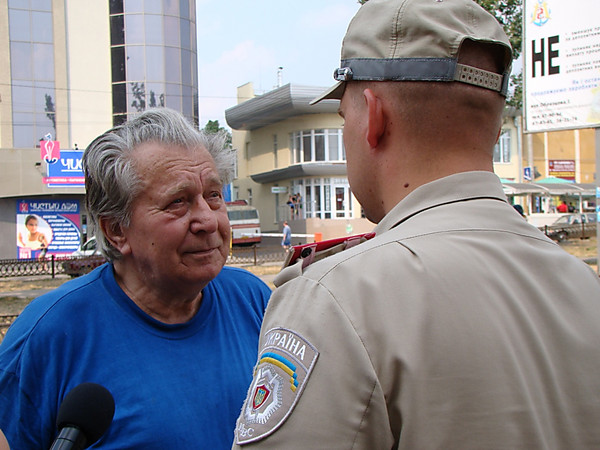 For the lack of documents, but at a pity manor to the grandfather, the inspector released the old man.
When journalists already were going to disperse, the inspector caught the man at whom appeared at itself documents and who honestly admitted it. As it appeared, honesty it isn't always good. The inspector took away the conscientious man to a patrol car, and there was going to make the protocol. Journalists to check this business after the inspector didn't go - perhaps will release the honest pedestrian …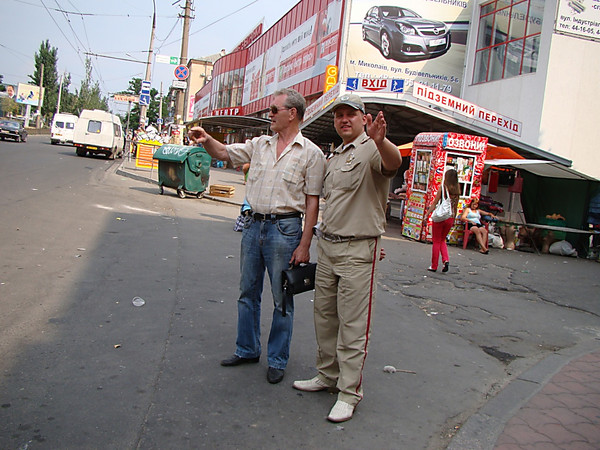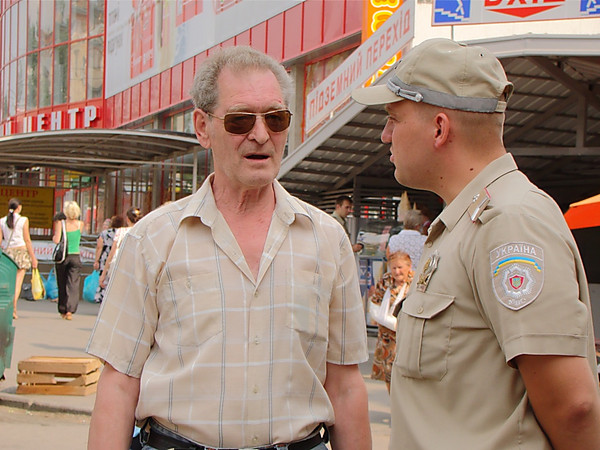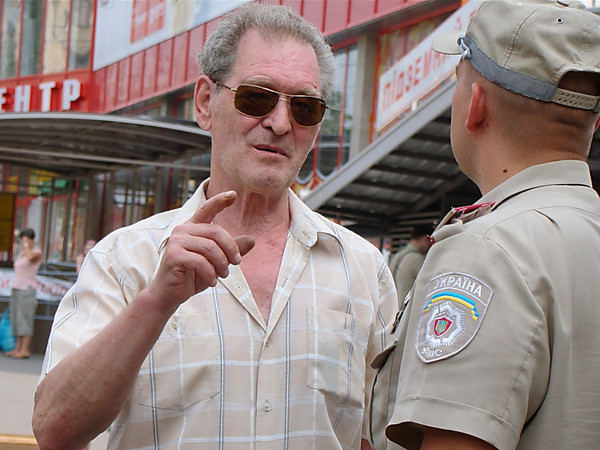 VIDEO