"The Black Sea state university of a name of Pyotr Mogila burns, in the building there are people" - according to such scenario 6-го August doctrines of divisions of Head department Ministry of Emergency Situations in the Nikolaev area were carried out.
All actions were fulfilled in the conditions of the most approximate to the fighting. Passersby, thinking that there was a fire, stopped and with bated breath observed that occurs.
And actions were developed as follows. At 10:30 from - for electrical wiring short circuits in a library book-depository on the first floor of the first ChGU case there "was" a fire. There was a threat of distribution of fire on a reader's hall of library and the book-depository room on the second floor, reports the Center of promotion of GU Ministry of Emergency Situations of Ukraine in the Nikolaev area.
The fire "was noticed" by library workers who at once notified protection. By means of a call the signal of evacuation of the pedagogical personnel and listeners of university was given. Employees of a voluntary fire team of university tried to apply primary fire extinguishing means, but it didn't yield desirable result.
Only at 11:00 about a fire reported in service of rescue "101". Already in a few minutes to the place of a call there arrived two firefighters of division. By then the personnel carried out evacuation of listeners of educational institution. Fighters of the Ministry of Emergency Situations started suppression. Raised number of a call was assigned to a fire and to a place in addition directed fire-fighting crews.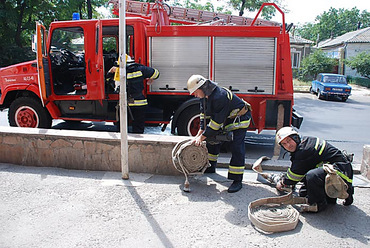 By then part of the building clouded clubs of a smoke and some people remained cut off by fire from emergency exits. People asked about the help, looking out of windows 3-го a floor. To their rescue applied a sliding ladder on which victims could go down on the earth.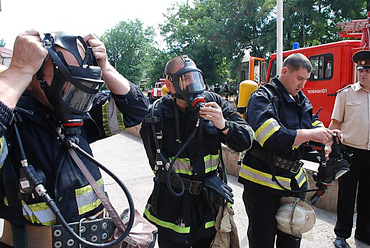 About forty minutes it was required to rescuers to liquidate a conditional fire. Over 30 fighters were involved in practical working off from pozharno - saving divisions of the city, seven units of fire and special equipment, also were attracted the staff of university.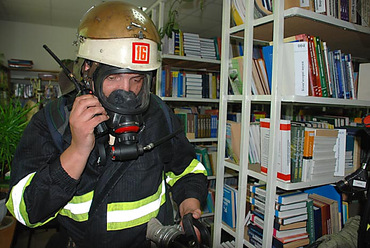 "Complexity of elimination of a fire in such establishments consists in a large number of people, and also complexity of planning of the building that complicates rescue of people in case of emergencies or fires. And during doctrines it is possible to check readiness and to fulfill actions on elimination of incidents of this sort", - the head of tactical maneuvers the deputy chief of GU Ministry of Emergency Situations in the Nikolaev areatoldValery Semenov.