In the morning on September 22 in Uzhgorod during movement the share taxi which followed down the street Victories in Uzhgorod ATP lit up.
About it reported in a press - service GU Ministry of Emergency Situations in the Zakarpatye area.
According to the driver, during movement he felt a smell of burning and decided to stop on a roadside to find out that occurred. When opened a bus cowl, I saw that from a motor compartment there is a smoke. First of all I broke plugs from the accumulator and I ran behind the fire extinguisher. But in salon it was expected still by bigger surprise - the dashboard already burned.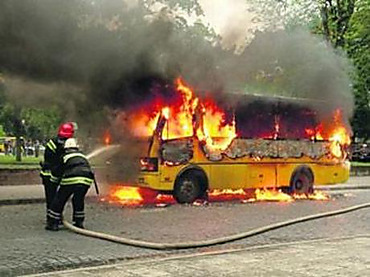 Having used two fire extinguishers, the man couldn't extinguish a flame. While he tried to rescue independently the vehicle, someone from passersby according to number 101 already called firefighters.
Rescuers received the message on a fire at 6:40. By the time of arrival of firefighters fire completely destroyed the vehicle.
During a fire nobody suffered.
The reason of ignition and the extent of the caused material damage are established.