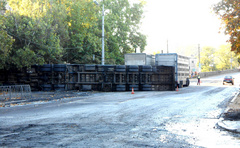 On the night of October 9 in Voznesensk of the Nikolaev region down the street Kiev has happened large-scale dorozhno - transport incident to participation of the heavy-load car.
About it «Crime. Is NOT PRESENT» the journalist Sergey Olkhovik has reported.
According to his information, truck tractor «Freightliner» , the carrying cattle, with license plates of Kiev region moved towards Nikolaev. Passing the adjustable intersection with Odesskaya Street, the tractor with the semi-trailer was filled up sideways and, continuing the movement in such situation, has damaged the high-voltage line, turnstiles, has demolished a tree on the sidewalk and has rested against a house wall.
«The driver of the tractor was hospitalized with injuries in Voznesenskaya the Central regional hospital. Road accident has died on the spot several animals. One of the causes of the accident call a hole at the intersection which was formed after a plentiful rain and recent repair of the collecting pipe» , - the journalist has reported.
At the same time he has added that, unfortunately, this road accident has happened on the same place, as collision of two heavy-load cars on October 4.
As is well-known. late at night on October 4 in Voznesensk down the street Kiev as a result of accident one of drivers of the collided trucks has died.