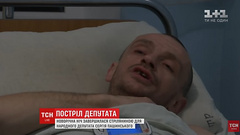 People's Deputy from Popular front fraction Sergey Pashinsky has directed the gun to the manwithout the prevention then the last has struck it with a bottle.
The victim has told about it in the comment of TSN, writes "Observer".
As it is noted in a plot, the man in alcohol intoxication came back home on foot. On the route he has offered the help to the unfamiliar driver of the zaglokhnuvshy minibus. When men pushed the car on the oncoming traffic lane, "Mercedes" has stopped. After the arisen skirmish with the woman - the driver, the people's deputy Pashinsky with the gun in hands has gone out of the car and has shouted:
"All to stand, lie!".
The same version in the comment To "country" the spouse of the participant of the conflict with Pashinsky has confirmed.
According to the woman, she all this time spoke with the husband by the mobile phone and heard all events. After he has obscenely answered Pashinsky's companion, the people's deputy has approached the man "in an emphasis with the gun at once, without any prevention, without precautionary shot".
"The husband with himself in a jacket had a bottle a neck, in shop I already was, I know how many he has bought: has drunk one on the road, and hasn't drunk up the second. He has already struck with this bottle when the trunk of the gun has been sent him to a breast then the shot has sounded and the bullet has got into a leg. Pashinsky has shot at this moment. If the husband hasn't hit him, he all the same would shoot, but would get to the case (the bullet has got into the left hip. - Edition). If my husband at this moment hasn't made any physical impact, it could end not only a shot in a leg", - Olga has noted.
When in a few minutes she has arrived to the scene, the gun was in Sergey Pashinsky's hands. "He was absolutely capable, he didn't lose any consciousness and kept him under a sight", - the woman has added.
At the same time she has expressed indignation of that fact that Pashinsky at first asked them not to make public an incident, then itself about it has written to Facebook.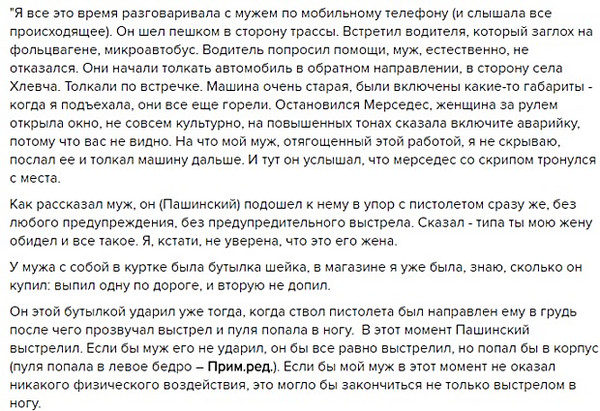 Let's remind that earlier it was reported that near Kiev the people's deputy Pashinsky has shot at a leg to the man who has knocked him a bottle on the head