The condition of our roads became for a long time the talk of the town − not evil silent word of road builders didn't remember the only lazy. And really highways in many respects leave much to be desired. Experts agree in opinion that one of the main problems interfering development of a road network, − this absence of responsibility as customer, and the contractor for the road which he constructs. Thus it is favorable to contractor to build poor, and then to repair. One more problem is that receipts from a pocket of car owners cover only insignificant part of maintenance costs and a construction of roads. Due to the chronic insufficient funding in this sphere there are certain difficulties. About investments into construction and reconstruction of the Nikolaev roads, the actions directed on increase of safety on roads, and also difficulties of road builders to the correspondent "Crime. Is NOT PRESENT" the chief of Service of highways in the Nikolaev area Protsyshin Oleg Vladimirovich told.
- Many vaguely imagine a difference between Service of highways and Oblavtodor, and some at all consider that it is one organization. Oleg Vladimirovich in what distinction between these two enterprises consists?
- First of all, I will note that it is two absolutely different things. Yes, it is the organizations which work in road branch, but each of them carries out the function.
The service of highways in the Nikolaev area is the state organization relating to the sphere of management of Public service of highways of Ukraine and subordinated it. Such services are in all areas of Ukraine. Functions of Service of highways in the Nikolaev area treat management of highways of the general plzovaniye and financial resources at regional level. That is, our Service acts as the customer of all complex of a roadwork.We finance works on construction, reconstruction, repair and the maintenance of highways, instead of we carry out them.
GP "Nikolaev Oblavtodor" is a JSC State Joint Stock Company Avtomobilnye dorogi Ukrainy subsidiary which acts as the main contractor on performance of a roadwork with which at us on a tender basis the contract is signed. We while have no alternatives. Oblavtodor the only enterprise in area with such branched structure - in each area is the Rayavtodor, all on area nineteen.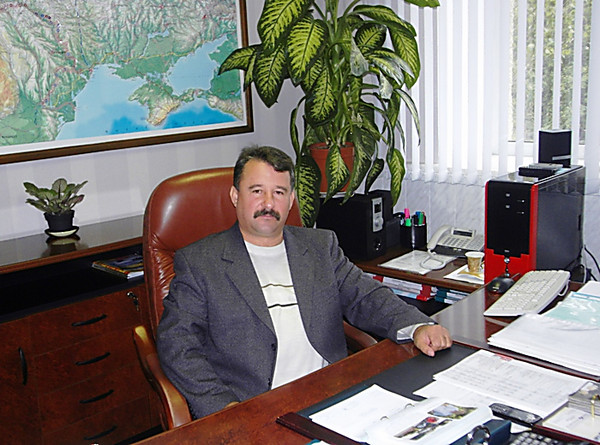 - What general extent of roads which are on balance of Service of highways in the Nikolaev area?
- Today on balance of our Service there are 4 797,8 km of public highways, from them the state value - 594,5 km. Roads of the state value in the Nikolaev area five: The resident of Ulyanovsk - Nikolaev, Odessa - Melitopol - Novoazovsk, Kirovograd - Platonovo, Dnepropetrovsk - Nikolaev and Aleksandrovka - Kirovograd - Nikolaev.
- Whether the Service is responsible for a condition of highways in settlements?
- No. We are responsible for roads only to border of settlements, our competence is farther any more. The condition of city roads is watched by the corresponding municipal services, a similar situation and with rural roads − local authorities are responsible for them. The exception is made by only those sites of streets and roads of settlements which are combined with public roads.
- Source of financing this year - the state budget or the local budget?
- This year generally state budget. If earlier the part of means arrived from the local budget, last year we received about 13 million UAH, this year changes were made to the Budgetary code - now practically all means from transport collecting in 2009 go for repair of roads of municipal property. Of the general financing of a roadwork of 93,4% make means of the state budget and only 0,6% - means of special fund of the regional budget. This year from the regional budget we received only 690 thousand UAH
We now have two types of expenses - capital (construction, reconstruction and overhaul it is expensive) and current. However in connection with an economic crisis the program for reconstruction and construction at us didn't work, the same situation is observed and in all Ukraine.The exception is made by only those roads which get under Euro-2012.
But after Dnepropetrovsk dropped out of the list of the cities of Euro-2012, our hopes for route Dnepropetrovsk reconstruction - Nikolaev were gone also. Therefore it is possible to tell that the Nikolaev roads preparation for this championship didn't concern.
- And still, how many funds were allocated this year from the State budget for Service financing?
- It was planned to allocate for construction, reconstruction and overhaul about 126 million UAH - 107,8 million UAH on roads of the state value and 18,5 million UAH on local roads. However, as I already told, this year this program didn't work therefore we received only 78 million UAH on operating costs. From this sum about 42 million UAH are intended for the contents and repair of local roads, last year this sum was on 10 million UAH less. Probably, by the end of the year to us to this sum "will a little more add".
- Oleg Vladimirovich what it was succeeded to make in ten months of this year?
- Due to maintenance we repaired 36 km of local roads. It was most of all carried out works on Bereznegovatsky, Snigirevsky and Bashtansky areas. That to state roads, only yamochny repair though in the beginning it was planned to carry out overhaul on separate sites of the route Odessa - Melitopol - Novoazovsk and on a route Dnepropetrovsk site - Nikolaev was carried out. However from - for problems with financing of anything it wasn't made.
As for a yamochnost, for these ten months it made 168 thousand m of quarter. Last year the yamochnost made 86 thousand m of quarter therefore for its elimination this year twice more cure was spent. As we see, every year this figure grows therefore we assume that next year it will be even more.
- With what it is connected?
- Holes on roads appear in already early spring. Practically all roads were constructed in 50-60-x years of the last century, and they didn't pay off on those loadings which fall on them now. Heavy-load cars which besides often go with a big overload, destroy our roads. The main reason here is obvious: to the enterprises - carriers want to reduce transport expenses, here they and load trucks under the tie. The driver sometimes at all doesn't know the exact weight of freight which is lucky because in the consignment note the underestimated figures are specified.
We try to fight against it - mobile posts of weight control carry out check of cargo cars on a permissible load on an axis. First it was in a novelty for drivers. Now they not to pass weight control wait a night-time, and at night we have no right to work.
- Whether were carried out to areas of work on improvement of road conditions in concentration places dorozhno - transport incidents?
- Certainly. This year we managed to achieve that two places of concentration of road accident were cleaned from this list. But, unfortunately, instead of them in this list two new were added. So the quantity of places of concentration of road accident in area remained on - former at the level of last year - 12. However the general extent of such sites of the road became less.
Completely investments can solve this problem only as to change geometrical parameters of the road it is possible only due to reconstruction. By means of maintenance we can improve only a little this situation, but cardinally change it - No.
- The greatest number of places of concentration dorozhno - transport incidents is the share of the route Odessa - Melitopol - Novoazovsk, to be exact of a site of this route from Nikolaev to Odessa. In the people this road call "cemetery" or "expensive death". Conversations on its reconstruction are had long ago. Whether there are already any results?
- This year on this site, 73,6 km long, only yamochny repair was carried out. It is possible to improve its transport indicators only due to capital repairs or reconstruction with the subsequent assignment of the status of the first category by it that implies expansion of the carriageway to four lanes. According to the most conservative estimates such reconstruction will manage in the sum about 1,5 billion UAH, but also this figure is very relative as a lot of things will depend on the prices of materials - bitumen, gasoline, etc. It is simple to receive not really such sum for the Nikolaev area - for all Ukraine to road builders allocated only about 11 billion UAH. The investor can solve this problem only, the budget simply won't extend such reconstruction.
- Everything rests against financing?
- In principle and. Unfortunately, rates of financing of roads considerably lag behind rates of their destruction.Highways, according to the technical regulations, demand each 12 years capital repairs, and each 3-5 years - according to plan - precautionary. Chronic insufficient funding of road branch led to that our network of highways 3-4 times already passed procedural terms. Respectively, and at present money suffices only on elimination of seasonal destructions.
For example, to contain the state roads which pass through our area in a normal state, it is necessary annually only to spend 100-110 million UAH for maintenance, and we receive only 36 million UAH and from them only 5 million UAH go for maintenance. As we see, a difference huge.
It would be possible to stabilize at least yamochnost growth on area roads for 4-5 years on condition of imposing of a tonkosharovy covering from полимерасфальтобетона with use of geosynthetic materials. But, besides, on it there are no means.
- Since January 1, 2010 "Ukravtodor" suggests to raise for 64% of a rate of a duty for gasoline, and for DT - on the average for 170% in relation to what exist now. With what it is connected, and what your personal opinion concerning such increase?
- Transport collecting existing nowadays very much isn't perfect. Slender means which motorists pay, don't suffice for maintenance of highways in proper condition. The best way to fill up the organization budget - to raise duty rates on gasoline and diesel fuel. It is possible after that in itself need of transport collecting will disappear. In the same Europe for a long time there is a similar practice as already in the most fuel collecting transport collecting is put also.
All complain of bad roads, but these roads need to be repaired for any means. I consider that it is fair - who goes more, that more and pays, after all while in a tank you won't fill in gasoline, you won't go anywhere. It is normal world practice.
We already addressed to local authorities with an appeal to support this bill.
- Whether there is a lack of equipment or necessary for normal work of your Service of the equipment?
- In principle, at us all areas are provided with necessary equipment, let not for 100%, but we have the most necessary. In total on the Nikolaev area we have 33 graders, 16 bulldozers, 17 hinged oborudovaniye for cleaning of roads of snow, 4 soleraspredelitel and 30 loaders.Certainly, there are cases when it is necessary and to throw equipment from one area in another, but special problems aren't present. The problem is that we should "leave" sharply since summer at winter rather - simply there is no time for equipment repair as it works for all 100%. The ideal option is, of course, equipment existence for summer works and separately for winter, but it demands too big material inputs.
- At what stage now there is a preparation for the winter period?
- I would like to note that as a whole all works are performed on the schedule. We already implemented nearly 80% of the annual plan, everything that it was necessary to make is a winter maintenance of roads.
For today we already for 60% stocked up with deicing materials - salt, sand and frictional materials. Depending on weather conditions of the winter period stocks of deicing materials will replenish if necessary.
- What roadwork it is planned to perform next year?
- The approved list of construction objects, reconstruction and overhaul of highways for 2010 while isn't present. But by the end of the year we will put forward the offers. Those objects which weren't included in the list of this year, we will repeatedly put forward. For example, we will suggest to enter in the list of objects of capital repairs a road site in the direction to Kherson. We will offer overhaul and for separate sites of highways Dnepropetrovsk - Nikolaev and Aleksandrovka - Kirovograd - Nikolaev. That is, we will offer those, sites which practically settled the operational resource and demand immediate repair.
Thanks for interview, Oleg Vladimirovich. Progress to you and your enterprise!