In Kiev on crossing of streets Deputy and Vernadsky there was a Toyota Camry car and minibus Mercedes collision.
As the correspondent reports"Editor-in-chief", Toyota moved from Pobedy Avenue down the street Vernadsky. The minibus went down the street Deputy (the main road) in the direction of Svyatoshino. According to the driver of Toyota, he didn't notice the sign "Give Way" which settled down over the carriageway. As a result of Toyota didn't pass a minibus and there was a collision of vehicles. Mercedes struck accurately sideways Toyota which from blow incurred. The car took off on the sidewalk where brought down the woman and a ferroconcrete electrosupport. From traumatized the woman died on a scene.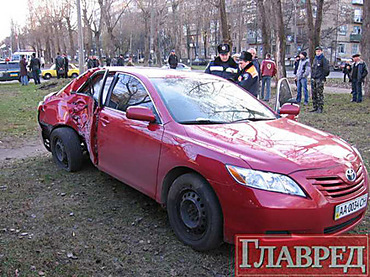 In road accident the passenger of Toyota was traumatized. In Mercedes nobody suffered.
Photo - Yury Melnichenko