After snow captivity Nikolaev appeared in the power of ice. Four days on the Nikolaev streets were better not to be shown from - for snow. On Sunday in addition to snow one more misfortune - ice came.
In Sunday morning the snowfall which has delivered so many troubles was succeeded by a rain. The combination of a rain to subzero temperature led to that literally within half an hour all city became covered by an ice crust. On roads which and so were in a disgusting state, now there can go only fans of adrenaline and thrills: cars brings, develops across roads from the slightest turn of a wheel and whether pressing a brake pedal. As our correspondent from the Ship area reports, attempt to go to the city wasn't successful - after more than hour expectation at a stop it became clear that minibuses don't go to the city. The transport connection with the Ship area, Kazarsky St., Matveevka is almost stopped. On streets only single minibuses are visible.
Meanwhile, absence of transport connection already starts affecting delivery of goods to shops. In city supermarkets of the shelf gradually become empty: transportation from Odessa, Dnepropetrovsk, Kiev - our main suppliers isn't present here some days.
So, passengers of the minibus No. 12 which has turned out from Korabelov Avenue on Oktyabrsky Avenue by miracle avoided terrible danger: the car with people deployed across the prospectus, - the benefit going behind and in front cars could hold a distance - an interval. Passengers from this "dvenadtsatka" to help the driver of a minibus, jumped out directly on the carriageway and began to push the car. Hardly they managed literally - to move a minibus and to free the road for the prospectus of transport going from both parties.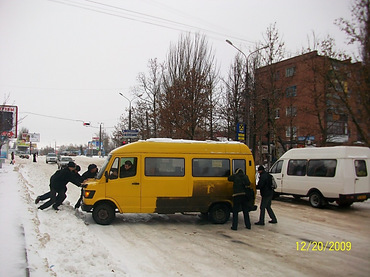 The same fate on this ice-covered site of the road comprehended an ambulance car, a number of private cars - both automobile, and cargo. Probably only thanks to virtuosity of drivers and happy combination of circumstances of road accident didn't occur.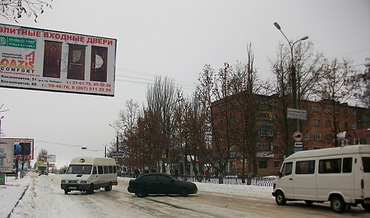 The deputy head of Ship administration Valentin Krasnozhon to whom we told about the deployed cars in the middle of Oktyabrsky Avenue, answered:"By the way the purest and therefore we get down to work on the private sector" are dear in the Ship area now. It was necessary to remind that the speech - about one of the central highway which from - for ice is turned into a continuous skating rink. "So Polozhenko (Deere has to be engaged in it. ELU of "Highways" - a bus comment)" - answered Krasnozhon, but promised that the district administration won't stand aside and will take all measures for a current situation razrulivaniye.