Law enforcement officers work without cease and even on holidays. On August 24, on the Independence Day the correspondent "Crime. Is NOT PRESENT" in the center of Nikolaev on crossing of streets Soviet and so forth Lenina, I became the eyewitness of carrying out, most likely, to any special operation.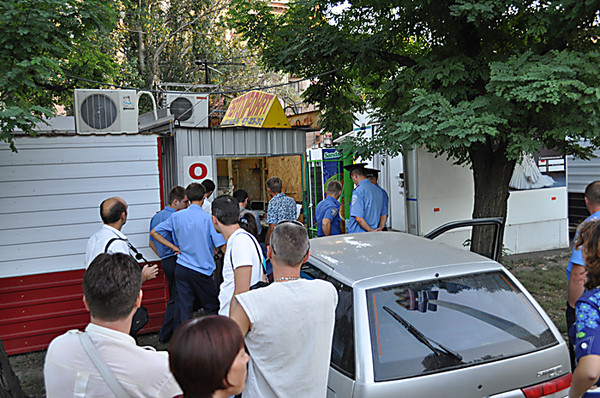 As it was succeeded to learn on a place of events, the staff of management of tax police of GNA in the Nikolaev area came with check to a booth which was engaged in currency exchange, but the cashier refused to open doors and забарикодировался inside. The Suzuki car (to whom it belongs, so to find out and it wasn't possible) propped up doors of a booth whether that "cashier" didn't escape, whether that law enforcement officers didn't get inside.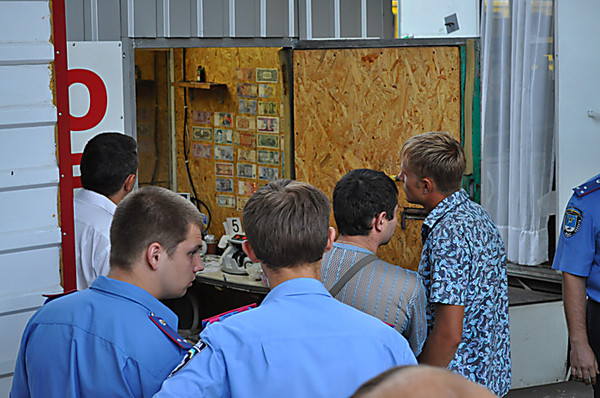 On a place of events there was also a representative of prosecutor's office though he was dressed, to put it mildly, on beach (in bridges and bedroom-slippers), but ordered process as if was the head of carrying out special operation.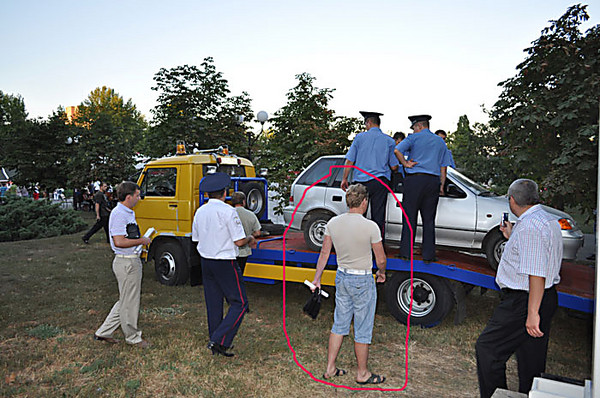 The man in bridges and slapsdirected special operation
The man who забарикодировался in a booth, after a while it became bad and therefore to it had to cause an ambulance crew. After a while to the place of events of profit and police officers, allegedly from the Central RO of the regional Department of Internal Affairs.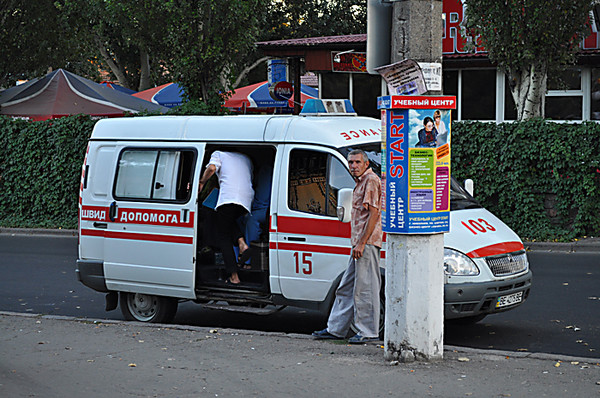 Physicians give help to the speculator in foreign currency
Many gapers were going to observe the events and it isn't surprising, after all Nikolaev this day with might and main celebrated anniversary of Independence of Ukraine.
After a while the man left "study" and fell into hands of physicians who stated suspicion that it has heart troubles. The man was hospitalized.
Staff of tax police caused a GAI squad and the wrecker on which shipped the car which is propping up doors of a stall, and take away in the unknown direction.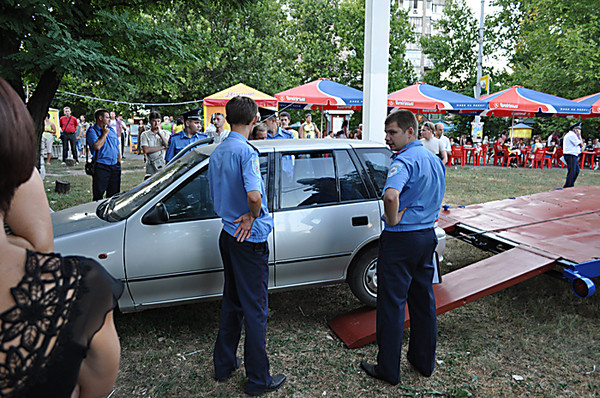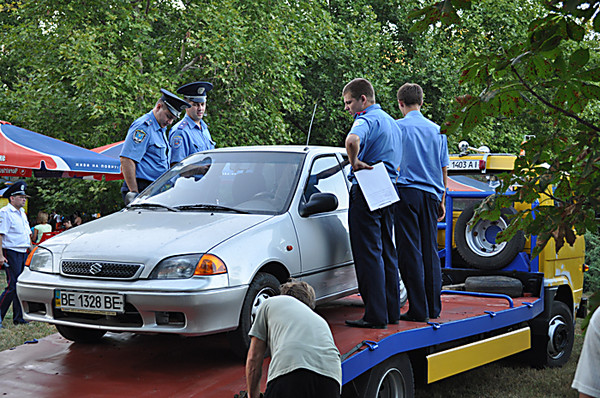 Here and so police officers protect a public order...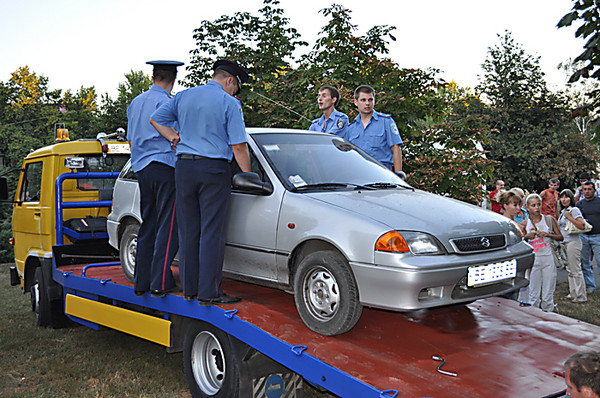 Police officers pose before the gathered gapers
Any comments neither from the staff of prosecutor's office, nor from police officers, from employees tax it wasn't succeeded to receive. Moreover, none of those who participated in an action on exchanger termination of work, didn't want it will be presented to the correspondent and it despite that most likely, all characters were on duty.
The only thing that was succeeded to hear from lips of militiamen, it: "Concerning any comments address in a press - prosecutor's office service".
To receive official comments from the structures which employees participated on August 24 in actions, until a material exit, it wasn't possible.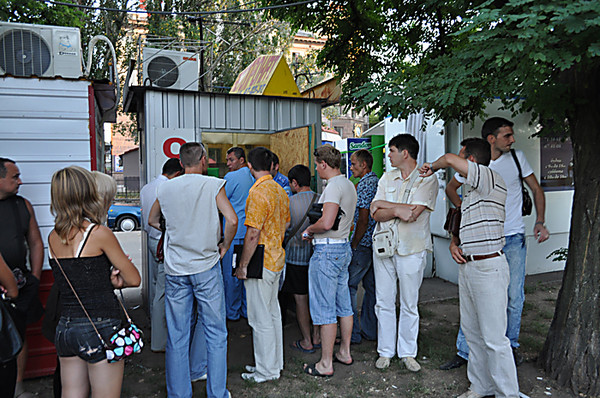 Very large number of quick employees took part in termination of work of an exchanger
In a press - to service of the Nikolaev municipal government of militia explained that actions which our correspondent contemplated yesterday on Sovetskaya St., were carried out by the staff of tax police together with prosecutor's office therefore any comments in militia can't give. The only thing that told us that police officers were attracted only for providing a public law and order (that they did on the wrecker, protecting the car and recalculating money, it isn't known - an editor's note).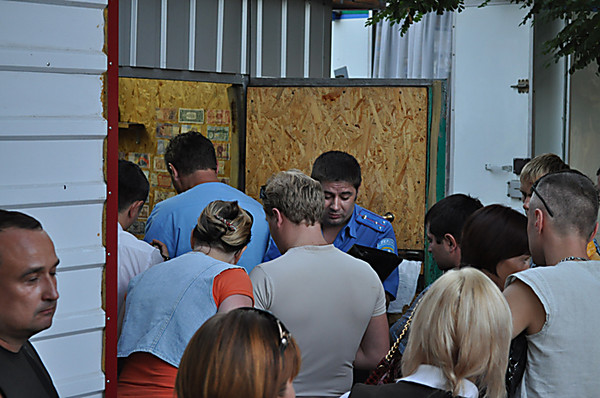 The head of department of tax police of GNA in the Nikolaev area Nikolay Matora also refused to make comments on something, having referred to that when there will be the official comments, prepared a press - service GNA in the Nikolaev area, "Crime. There are no they" without fail will be provided.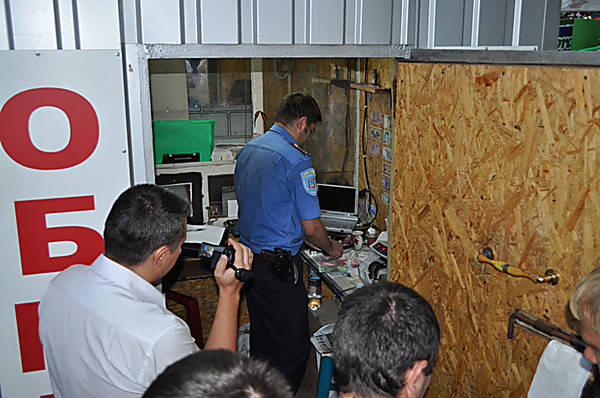 Pleasant procedure of conversion of currency
Press - prosecutor's office service, as well as a press - the service tax, still prepares comments and also promised to transfer them to our edition.
For now, this history acquires hearings and guesses. Sources in GNA in the Nikolaev area claim that with arrival of the new management to the Nikolaev tax fight for repartition of spheres of influence in the Nikolaev area began.

Video from a place of events: