з - for "buildings of a century" the capital can lose at all clear water - it will be polluted by exhausts and heavy isotopes. The authorities assure - everything will be carefully checked. Ukrainian. From - for roads the city attacked from all directions by poisonous evaporations, will lose the last "green lungs", besides here will destroy places of spawning of fishes; A.Yaremchuk's photo
The main Belt road which the authorities intend to build with might and main, can do irreparable harm to the city, - ecologists declare. Not only that inhabitants of Kiev can appear without drinking water, they risk to suffer from radiation. "Today" together with the head "The Kiev ecologist - the cultural center", Vladimir Boreyko, I passed on a route future Big Ring and I learned, than this can threaten inhabitants of Kiev "building of a century".
KIEV SEA.Having armed with schemes future district which provided us a press - service of Ministry of Transport, we went to "big travel" round Kiev. The most serious problem when laying round the capital bridge construction through the Kiev reservoir will be Ring. Scientists speak about danger which conceals a bottom of the Kiev sea, more than 20 years. After all it became "a buffer zone" for highly radioactive particles of the washed-away soil with infected with explosion on the Chernobyl NPP territories. Since 1986 in the cascade the dneprovskikh of reservoirs the mass of radioactive caesium, strontium and plutonium arrived. According to monitoring of water ecologists, only 2 - 3% of caesium and 20-30% of strontium were taken out to the Black Sea, other weight remained in a reservoir. Such volume process as construction, can arrange in Kiev and the cities is lower on the Dnepr Current the real ecological disaster." Now radioactive particles are in natural preservation under a thick layer of silt, - Boreyko speaks. - However when there will start building the bridge, to drive in piles, the layer of silt will be stirred up and all infected particles will start arriving to Dnepr. Inhabitants of Kiev will bathe and drink radioactive water! " Consequences will be terrible - from oncological epidemics to mutations.
GUM.The Desna Small River through which one of the bridges, connecting the road will go becomes the following stumbling block in construction Ring. Now there still favourite vacation spot of inhabitants of Kiev and inhabitants of area, excellent fishing dock and prirodno clear water.However after bridge construction the place which supplied with drinking water all capital, risks to be destroyed. "The capital consumes water from Dnepr and Desna. It is interesting that water from Desna is much purer dneprovy and "dilutes" it", - Boreyko speaks. After emergence Ring clear water practically will disappear - on a site of Desna Bridge will fill up with sand. And also, knowing our shabby construction equipment, it is simple to assume that spots of fuel oil, gasoline and heavy metals from exhausts will regularly get to the small river.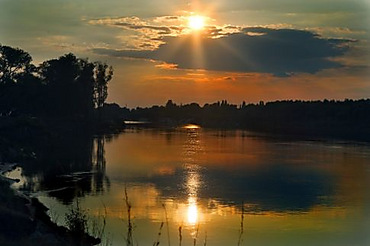 Besides, Desna is almost the only river in Ukraine in which the sterlet spawns - here fish is attracted by a quiet current and a stony bottom. When water will be polluted, and the bottom is filled up with the sand, the valuable species of fish can disappear. Water meadows at Desna - excellent natural pastures and a zone between Desna and Dnepr are of great value also - some species of rare birds (a gray crane, white and red herons) there are found. With laying there the roads, the enormous territory which is worthy to become a recreation area for inhabitants of the capital will turn into Hydropark-2 - it simply засыпят garbage and will force roadside cafes.
UKRAINIAN.The city management the Ukrainian protested against construction Big District most. On a bridge site people повыставляли wooden "hedgehogs", and on a fence flaunt numerous inscriptions "To the bridge - no! ". Locals promise to lay down under construction equipment - to them Ring will bring only inconveniences. Hardly it is necessary also to dneprovsky fish - the bridge will put on a place where Stugn and Kozink's rivers flow into Dnepr, and it is a favourite place of spawning of dneprovsky fish. "The bridge will turn the Ukrainian into the second Mariupol on an ecological state. Thus the road will destroy the only green space of the city", - Boreyko speaks. So the town, actually, will choke with exhausts. Ecologists give an example of Paris which kept Fonteblo's well-known wood - the easy cities.
Completely to refuse from District ecologists don't ask - offer that when laying the road consulted on them. On Desna, for example, ecologists advise better to take in several kilometers above, as for the Kiev sea, here it is worth thinking seriously to start up the road below a dam.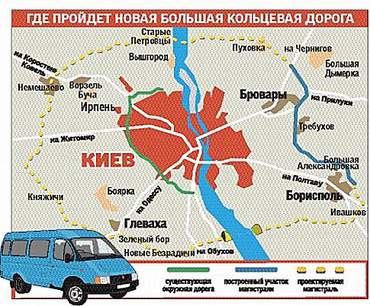 THE AUTHORITIES CALM
In the Kiev regional state administration "Today" declared that the construction project District is yet ready, will finish it by the end of the year."After end of the project will surely carry out environmental expertize, - the deputy chairman of a kiyevoblgosadministration Vladimir Maksimenko speaks, - and then will be already engaged in all problem points like Ukrainian and environmental problems of Desna and the Kiev reservoir". In Ministry of Transport it confirm. "The road is included in a framework of preparation for Euro-2012 therefore it will be controlled not only the Ukrainian authorities, but also officials of EU, - the head tells a press - department services Victoria Yakovleva, - I don't think that there will allow any accident".
The capital authorities at all don't believe in accidents. The chief of a central board of environmental protection of municipal administration Vladimir Trokoz told "Today" that Desna - the small river narrow and the bridge can construct so that it won't rest against water - support will put on coast. "By the Kiev sea we constantly watch a situation. At construction of the bridge dangerous sites where most of all silt with radioactive elements", - Trokoz speaks will be hardly touched. According to him, experts constantly check a condition of water and if that, at once notice danger.
And as for exhausts, officials say that District, on the contrary, will save Kiev from a gas contamination - truck which now pass through the city, will go to a detour.