Basketball. Chepionat of Ukraine. Superleague
Before game
Champions again confirm a tendency the best game "reserve" for eurotournaments. In the Ukrainian championship some basketball players don't have enough, apparently, motivation. However, R. Girskis who has come back on the trainer's bridge already proved that intends to demand from the team and "house" to play in all seriousness. It not simply holds a lot of time on a platform of "stars", but also demands from them to show all the skill.
And to whom it is impossible … Here and Liadelis is already brought for staff as couldn't restore the former potential. Whether because Seylerz began to add quickly, what was afraid too to appear out of work during the high season? Lishchuk who some time was treated after a trauma progresses also. Literally the other day "Azovmash" invited one more playing to substitution to El Amin. Even if Yarutis also didn't strengthen team in Euro cup, in the Ukrainian championship the recent leader of BQ "Poltava" shows very strong game.
Game
MBK "Nikolaev" - "Azovmash" - 64:102 (15:27, 15:21, 21:29, 13:25)On December 13.Nikolaev, спротшкола "Hope", 2000 viewers
Productivity (points/minutes in game)
GILEVICH
8
15
ALE - AMINE
16
29
RAJEVSKI
6
22
THOMPSON
15
32
HLEBOVITSKI
11
32
SKUTELNIK
9
17
MANTGOMERI
5
23
LISHCHUK
7
22
ONUFRIYEV
8
22
VAN DEN SPIEGEL
12
17
Yaylo
6
12
Yarutis
14
30
Silkovsky
9
21
Оснач
6
5
Tonchenko
0
4
Сельерс
10
23
Gladyr
6
28
Nsonva
13
25
Blair
5
21
Head coach Vladimir FIELDS
Head coach Rimas Girskis
Accuracy of throws (threw/got)
2-point
18/42
41/23
3-point
20/6
25/14
Penalties
15/10
32/14
Selections (the шит / stranger)
26/10
28/9
Judges:V. Drabikovsky, B. Shulga, A. Babik (all - Kiev)
CommissionerYu. Sobolev (Kiev),
Eminent guests played at once easily, quickly and beautifully. And nikolayevets as it is easy … lost the wards in defense and a ball - in attack. From our starting five only two could open the personal accounts in the first period. But all left then on replacement were happier. And Bleyr to the productive throw at the very end of the period added the block - шот and 7 selections, including three - under others board. However, in defense inkolayevets of essential hindrances to attacks didn't create van den Shpigel, Lishchuk and Nsonma - 15:27.
In the second period I felt a throw Gilevich, on a tryulnik were dumped Silkovsky and Montgomery. 3 more points from the line of penalties added Rajevski and Blair. The result in attack appeared the same. Passed slightly less, but whether owners to a platform will rise spirit at obvious predefiniteness of a result of a match - 30:48?
After a big break inkolayevets began to attack more productively. The example was set, as usual, by Rajevski. The initiative was supported by Hlebovitski and Yaylo with Gladyrem. Yes only the mentor of guests Rimas Girskis during a minute break stirred up the basketball players, and they added in speed. Especially Skutelnik, Thompson and El Amin tried. 51:77.
Final ten-minute became repetition of the first not only by quantity of the lost points. Again poorly the basketball players beginning the period, - only 3 points on five played! Again the pill was sugared slightly by the partners who have replaced them. Especially actively and productively Onufriyev worked. But the rival answered almost with twice more powerful volley - 64:102.
After game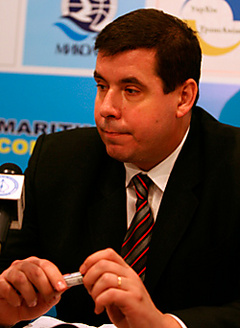 The head coach of MBK "Nikolaev" Vladimir Polyakh on after match a press - conferences looked depressed:
- Unfortunately, to play with the teams of level of "Azovmash" and BQ "Kiev" our team isn't ready morally. It is impossible to lose a match in advance in a locker room. I try to put some idea this to children, but … It turned out so: tried, it didn't turn out, well, and it is fine. Why players didn't make due efforts in each attack, in protection? Why the BQ "Donetsk" missed a victory with "Azovmash" only in an overtime, and "Chemist" even won Mariupol? We after all both with Donetsk, and with Youzhny played as equals …
On a match with "Azovmash" I have claims to all players. Not in each episode Blair up to the end battled, the same can be told and about the others. Montgomery is strong when partners play. If at them game doesn't go, this basketball player, probably, doesn't pull.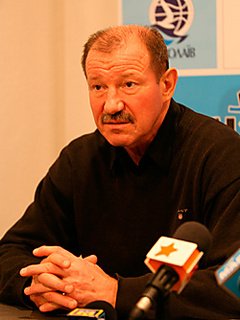 According to Vladimir Polyakh, some players of MBK "Nikolaev" had problems with discipline, and it as the trainer, will use the best efforts to bring with it an order.
The head coach of "Azovmash" Rimas Girskis returned only a month ago on the trainer's bridge of team. The compelled break was connected with serious problems with health. The Lithuanian also began communication with journalists with this subject:
- I am absolutely healthy! - Girskis told. - Thank God and to doctors.As for a match with MBK "Nikolaev", I want to call the Nikolaev basketball players and their fans not to be afflicted, "Azovmash" today in good standards. My team plays as I want: not only wins, but also does it beautifully.
In a match with MBK "Nikolaev" of Rimas Girskis afflicted one. According to the Lithuanian expert, in the second half nikolayevets played roughly that led to Lishchuk and Selyers's injuries. "Azovmash" has now a short bench, and loss of these players would be inopportunely, especially on the eve of Euro cup duel with "Letuvos Ritas".
About withdrawal from the Belgian center Van den Shpigel's team Rimas Girskis called hearings "duck". The skilled mentor also commented on split in the Ukrainian basketball:
- Two leagues - not a step forward. Personal ambitions won a victory over the Ukrainian basketball. In Lithuania, for example, such it is impossible, there basketball - religion.
Review of round
Having seen enough the first half of a match of the leader of the championship with the outsider, the Nikolaev fans could обзавидоваться. Here after all it was lucky полтавчанам with replenishment! Even without Yarutis an americana - the Baltic legion made to capital "wolves" a pale look. To the middle of game of Klemons and the company loaded a basket of owners of a platform with nine tryulnik in 10 attempts!
When right after a break the gap the account reached 9 points, on the present began to smell sensation. But here Bayramovich at first puts in a basket of rivals two balls from - for arches, and then hammers from - under a board even after an unsportsmanlike foul полтавчан. One minute inhabitants of Kiev from dirt rose in princes, and ahead of pack Drozdov broke off defense of suddenly hung guests.
Basic rivals met in Donetsk. Local "tigers" so intimidated acting bronze prize-winners already in the first period - 21:9 that basketball players of "Chemist" couldn't raise the head until the end of a duel. And center Owens played owners of a platform less than 15 minutes. But "the" 17 points I managed to hammer.
To the last boss "Pulsar" beat off in Sumy. Conceding after the third quarter 61:55, to the rovenchena on a finishing piece came forward in the account twice! The former Nikolaev mariupolets Podorvany at the score 63:65 won selection on others board then Green made even result. And Podorvany's 4 throws from the line of penalties last seconds of a match brought to northerners the gained victory.
On December 13
Sumykhimprom - the Pulsar - 84:81
BQ Donetsk - The chemist - 90:59
BQ Kiev - BQ Poltava - 95:75

And
In
П
Р / about
About
1
BQ OF CUES
11
10
1
954:760
21
2
AZOVMASH
11
9
2
973:813
20
3
BQ DONETSK
11
7
4
907:835
18
4
SUMYKHIMPROM
11
5
6
912:957
16
5
MBK NIKOLAEV
11
4
7
841:960
15
6
CHEMIST
11
4
7
867:955
15
7
PULSAR
11
3
8
843:900
14
8
BQ POLTAVA
11
2
9
842:959
13

On December 18
Azovmash - Sumykhimprom
Pulsar - BQ Kiev
On December 20
The chemist - MBK Nikolaev
BQ Poltava - BQ Donetsk